26 April 2017
By Bryan T. Smyth
bryan@TheCork.ie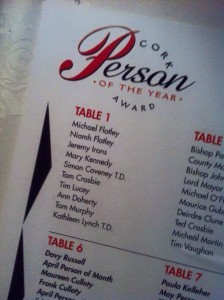 Sinead Kane, with only 5% vision, has completed seven marathons in seven days on seven continents to establish a new World Record.
April Cork Person of the Month Sinead, with her guide runner John O'Regan, ran the first marathon at Union Glacier in Antarctica, then Puuta Arenas, Chile, Miami USA, Madrid Spain, Marrakech Morocco, Dubai UAE, and finally Sydney Australia.
She is the first visually impaired athlete to complete the World Marathon Challenge and the 34 year old Youghal native only took up running a few years ago.
Sinead Kane also succeeded in a career people told her would be unsuitable for her, because of the heavy amount of reading involved. She qualified as Ireland's first legally blind solicitor in 2009.
"It's all about mental strength and realising why you want to do it. I want to change people's perception of disability" said Sinead.
One of the people who nominated Sinead for the Person of the Month award said "I'm nominating an elite athlete, not a blind girl, for this award. She just inspires all people, both disabled and non-disabled, to realise their own potential".
Since she was a child, Sinead has been used to having obstacles put in her path. She recently spoke about the bullying she experienced in Primary School and the isolation she felt when she moved on to attend Secondary School. " I have come through some very low periods in my life, but I have always had the ability to bounce back. Too many people are not living their dreams, because they are living their fears "
Sinead Kane lives with a very positive attitude "I can choose to be blind or I can choose to be visionary. It takes courage to have limited sight and to go out and run with thousands of people because the risks of being injured are higher. What I have learned from life is that courage has a ripple effect. Every time we choose courage we make those around us feel better and the world a bit braver".
Sinead's name now goes forward, with the other Persons of the Month chosen this year, for possible selection as Cork Person of the Year at a Gala Awards Lunch in mid-January 2018.