23 May 2017
By Bryan T. Smyth
bryan@TheCork.ie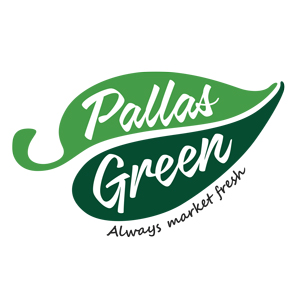 Pallas Foods have unveiled Pallas Green as the new name for their fresh produce brand, which has a base in Sitecast Industrial Estate, Togher, Cork.
Formerly named Keelings Farm Fresh, Pallas Green's "brand ethos, product quality and experienced and knowledgeable staff remain unchanged".
The Cork team distributes hundreds of lines of fresh fruit and vegetables to restaurants, hotels and cafes across the region, with a customer guarantee "Always Market Fresh".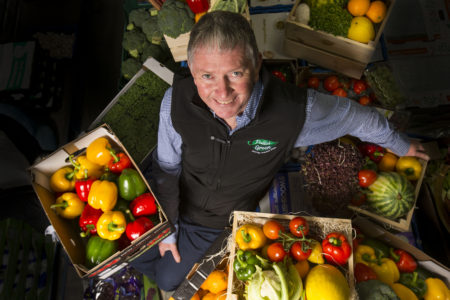 Pallas Green Cork General Manager, Martin O'Sullivan pictured at the launch of the Pallas Green re-brand.
Picture: Cathal Noonan
Speaking at the re-brand, Martin O'Sullivan, Cork General Manager of Pallas Green, commented, "We are thrilled to unveil our new brand name, Pallas Green, to represent our fantastic range of tasty and quality fresh fruit and vegetables. We would like to assure all of our customers that while our brand identity is evolving our products and excellence in customer service remains unchanged. At Pallas Green, we believe in supporting Irish and buying local where possible. We do this to support Irish jobs, Irish growers and Irish producers, and to ensure we deliver the freshest of produce to our customers' doors. We have long established relationships with our produce partners and continue to work with them to guarantee that produce from Pallas Green is 'Always Market Fresh'".
About Pallas Foods
Pallas Foods is the leading food service distributor on the island of Ireland. Pallas Foods has a team of over 960 people dedicated to providing excellent quality product and services to our customers sourced throughout Ireland and beyond.
Currently, Pallas Foods services over 9,000 customers from our portfolio of more than 14,000 products. We operate from our shared service centre in Newcastle West, Limerick and a new Foodservice Centre in Dublin with regional distribution and delivery centres across the whole of Ireland. The company offers next day delivery, island wide, through our own delivery fleet to ensure that the product arrives as expected by the customer.
Pallas Foods' parent company, Sysco Corporation, acquired the UK-based foods specialist, Brakes Group, in 2016 and in February 2017, Pallas Foods and Brakes Ireland began the process of bringing the two companies together. Over the Spring and Summer of 2017, the focus will be on bringing together the operations in the Republic of Ireland, operating under the Pallas Foods Brand.