1 June 2017
By Bryan T. Smyth
bryan@TheCork.ie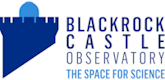 Improve your spatial awareness!
In association with Cork Institute of Technology, Cork County Council, the International Space University and Science Foundation Ireland, County Mayor, Cllr Seamus McGrath this week launched Blackrock Castle Observatory's Summer of Space at Cork County Library Headquarters. The exciting public engagement programme celebrates the 30th Space Studies Programme and 10 years of Blackrock Castle Observatory.
Beginning on June 26 until August 25, 2017 Cork Institute of Technology plays host to the International Space University's annual Space Studies Program (SSP17). In the summer of 2017 CIT's Blackrock Castle Observatory (BCO) celebrates 10 years as an award-winning science and discovery centre, engaging close to 1 million people over that time on explorations of contemporary science and technology through the theme of astronomy and space.
Summer of Space is the broadest public engagement programme ever organised by a host country during a Space Studies Programme. With over 50 public events taking place across Cork city and county and the island of Ireland the extensive programme will raise public awareness of the benefits, challenges and inspiration of space exploration and other space endeavours. With a host of world-leading space experts and enthusiasts appearing at events for young and old there are ways for everybody to explore this incredible Universe and humankind's place in the vastness of Space.
The public is invited to attend a series of In Space conversations with some of the world's leading experts in space and future study fields; Jim Dator, editor in chief of the World's Future Review, will be at Blackrock Castle on June 30 speaking about what lies ahead in space exploration and for us as a species. NASA astronaut and artist Nicole Stott will appear at the Crawford Art Gallery at 6pm on July 6 with leading Space Architect, Dr Barbara Imhof, in a panel discussion facilitated by science communicator and BCO Artist in Residence Dr Niamh Shaw. Free family workshops take place in the gallery that afternoon supported by the Crawford Art Gallery and Mayfield Arts Centre.
The Cork Sky Friendly Campaign hosts their first public meeting at Blackrock Castle Observatory on July 14 with light pollution expert Dr Brian Espey exploring how Cork has the potential to be one of the darkest places on the planet to observe the night sky.
People can watch a rocket launch competition at CIT Sports Ground on July 23 and young people can hone their rocket building skills at Blackrock Castle Observatory's 10th annual Space Camps over the two weeks prior to July 23. Everyone that registers for Space Camp will be in with a chance to win 2 tickets to Buzz Aldrin's lecture at CIT on June 27.
Cork County Library offers a star studded programme compiled with Blackrock Castle Observatory at branches across the county. Pick up a Summer of Space brochure at Cork libraries and take part in a huge range of workshops, talks, and learning experiences for all ages. Cork County Library is supporting these events and activities with a wide-ranging space themed book stock, as well as a range of digital resources, story time, arts activities, book clubs and Summer Reading challenges. Catch a planetarium show at the StarDome at libraries across Cork county or follow the Mobile Library buses for pop-up, space science fun with Space on the Road this summer. Library events are co-funded by the Economic Development Fund of Cork County Council, Blackrock Castle Observatory and Cork County Library.
Other events include a MoonCycle on July 22 in association with the Cork Cycling Festival, a stand-up, comedy night brought to the Poor Relation pub on July 12 by Bright Club featuring science troubadour Jonny Berliner and a host of fireside chats with space and astronomy enthusiasts taking place at CIT and Blackrock Castle Observatory. For primary school teachers, the European Space Education Office (ESERO) Ireland, is offering places for teachers on a 5-day professional development course at two unique space related locations in Cork and Lough Gur, Co Limerick from July 3-7, 2017. Teachers can expect surprise visits from SSP17 experts; all primary teachers that register for the Space themed summer courses will be in with a chance to win a ticket to Buzz Aldrin's lecture at CIT on June 27.
In a message for the launch of the programme on May 31, Dr Buzz Aldrin, Chancellor of the International Space University and the second man to walk on the Moon, commended the team at Blackrock Castle Observatory for organizing and participating in the celebration of a Summer of Space. Buzz Aldrin will open the Space Studies Programme on June 26, 2017.
Tickets
Ticketed admission to Summer of Space events in association with Blackrock Castle Observatory can be booked on www.bco.ie Call 021 432 6120 for the full schedule.
Cork County Council Library events can be booked through Cork County Libraries. Details and booking may be made through individual branches; check for contact details on www.corkcoco.ie/Library
Be sure to pick up a brochure, join in and share your Summer of Space experience on social media using #OurSpaceOurTime #SummerofSpace and #SSP17.