20 July 2017
By Tom Collins
tom@TheCork.ie

Do you live in Cork City Centre? Is it the perfect place to live or can you see room for improvement? Of course it isn't. Would you like to help shape Cork City Council's future actions and priorities in the City Centre? If so the City Council would like to hear from you. Cork City Council is conducting a survey of City Centre residents to better understand how people feel about living in the City Centre and what residents consider to be the key issues affecting life in City Centre neighbourhoods.
The City Council wants to know how you rate living in the City Centre, as well as what you think of the quality of green space, streets and spaces, and whether there are areas that you don't feel safe in. Are you affected by noise pollution? The City Council also wants to understand how well City Centre communities are working together – do you feel that you are well-connected into City Centre networks / communities, and are part of decision-making generally. These are all matters that the City Council would like to explore but you will also have the opportunity to flag your top three issues – whatever they are. Pat Ledwidge, Deputy Chief Executive of Cork City Council, said "Cork City Council needs those who live in the City Centre to help us prioritise our action and investment –this City Centre Neighbourhood Survey is that critical first step to enable us to understand people's experiences of living in the City Centre. We have 400 responses so far but we would like to hear from as many people as possible and we encourage residents to take 6 minutes of their time to fill out the questionnaire and tell us what it is like living in Shandon or any other City Centre area. This is the start of a new focus on improving quality of life in City Centre neighbourhoods.."
Why bother? This survey is the first step towards developing a Cork City Centre Neighbourhoods Strategy that will be developed in partnership with City Centre neighbourhoods to identify actions to help improve the quality of life for those living in the City Centre. This might, for example, mean finding creative solutions to provide more green space. The City Council hopes to prepare the strategy over the next year following completion of the survey and a pilot neighbourhood strategy.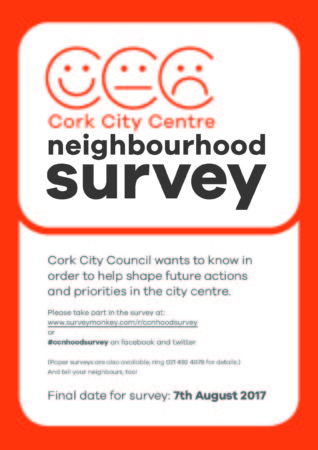 Whether you live on the City Centre Island, Shandon, South Parish or other areas of the City Centre the City Council wants your opinions. If you aren't used to doing online questionnaires then you can find copies of the questionnaire at local venues, including: Nolan's Butchers on Shandon Street; Saint Luke's Post Office; Albert Road Post Office; Saint Peter's on North Main Street; Alchemy and Mouse Cafe on Barrack Street; South Parish Community Centre and Cork Flower Studio on Douglas Street. Community Associations, such as Shandon Area Renewal Association (SARA), and others, are also helping to get the word out on the ground.
Cork City Council aims to ensure, as far as possible, that the overall response is representative of all people in the City Centre (e.g. age groups / areas of the City Centre). The deadline is 7 August 2017. Please look up the survey at https://www.surveymonkey.com/r/ccnhoodsurvey