8 September 2017
By Bryan T. Smyth
bryan@TheCork.ie
Expedia.ie have created a new website taking travellers on a journey across Historic Ireland – from Ireland's most iconic sites to lesser-known spots.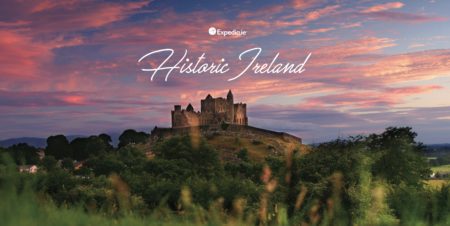 The new website, which launches on Expedia.ie (blog.expedia.ie/historic-ireland) this week unravels many of Ireland's historical treasures throughout the ages and is ideal for curious travellers on a short break or wider trip across Ireland.
Spanning the four provinces of Ulster, Munster, Connacht and Leinster, visitors to the Historic Ireland pages can explore Ireland's history as far back as the Neolithic to Megalithic ages up until the 1900s when Ireland's political and industrial landscape experienced a dramatic change. The website also focuses on Vikings, monastic sites and many of Ireland's most ancient castles.
The site features several historic Cork attractions including Blackwater Castle, Drombeg Stone Circle, Cobh Heritage Centre and Skibbereen Heritage Centre.
With a history covering more than 5000 years, the Historic Ireland website serves to highlight the must-see historic sites across Ireland for travellers. This includes Skellig Michael, the largest of the Skellig Islands, lying off the coast of County Kerry and home to some of Ireland's most ancient monastic ruins; Newgrange in County Meath, one of three UNESCO Heritage sites in Ireland (the Giant's Causeway and Skellig Islands listed alongside it); and The Hill of Uisneach, a site where Ireland's ancient High Kings were inaugurated, and from its summit – even today – 20 of Ireland's counties can be viewed on a good today.
The Historic Ireland website also takes visitors on a journey to lesser-known sites such as Brownshill Dolmen, an impressive 100-tonne granite capstone, supposedly the largest tomb of its kind in Europe; and Bonamargy Friary, the ruins of which are tucked away along the north of Ireland's coastline.