18 September 2017
By Elaine Murphy
elaine@TheCork.ie
Do you have the jingle bells to jitterbug with Santa Claus?
If so get ready for 'Dancing with the Elves' as Santa Claus needs your help at Beyond at Fota Island Resort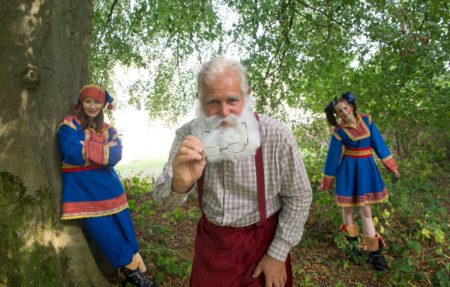 Now in its fifth year, the gorgeous woodlands at Fota Island Resort are set to be transformed into an exciting and magical Christmas experience and Santa Claus is putting his annual call out for the most magical elf helpers in Ireland to assist with Beyond at Fota Island Resort, this winter's exciting new project.
The 'Dancing with the Elves' auditions will take place in The Kingsley on Saturday September 23rd from 12pm to 6pm and this year Santa Claus will have some help from Dayl Cronin who will be interviewing the potential elf helpers and helping the judges to decide on the cleverest, funniest and most magical of those to join the team at Beyond at Fota Island Resort this year.
Dayl Cronin, the singer and Dancing with the Stars contestant will be joined by a lineup of guest judges along with Seamus Leahy of the Fota Collection, who knows what he's looking for in an elf helper. ""Shy and retiring types need not apply! Becoming an elf helper is a truly magical task and requires a bubbly personality, common sense and a true love for Christmas. The ability to make toys super quickly and an excellent hot chocolate are also welcomed"
Last year alone, Fota Island Resort saw over 53,000 guests be enchanted by the magic in the woodlands. Over 20,000 candy canes were eaten and cold hands were warmed by over 21,000 cups of hot chocolate so if you think you have what it takes to help spread this level of Christmas cheer, please come along to The Kingsley on Saturday September 23rd from 12pm to 6pm. You are encouraged to come in character, and bring any props or costumes to make your audition a memorable one!
Applicants must be available from the 23rd of November (with selected training days prior) up until the 23rd of December 2017, you will be required to work outdoors and applicants must be 16 or over. You can register online on www.fotabeyond.ie but please bring the completed from with you.
Beyond at Fota Island Resort runs from the 23rd of November to the 23rd of December. Individual tickets for Beyond at Fota Island Resort cost from €10 to €16 per adult and €15 to €26 per child, depending on dates and times, with children under one free, and tickets will be available from 29th September on www.fotabeyond.ie.
For further details on great value family packages which include early bird tickets to Beyond at Fota Island Resort see www.fotaisland.ie.