15 November 2017
By Mary Bermingham
mary@TheCork.ie
Cork North West TD, Aindrias Moynihan has said that he is deeply annoyed at the 'solo run' that ESB management undertook at Gearagh Special Area of Conservation following the recent Storm Ophelia. The action damaged the protected habitat and made the area unusable by local residents.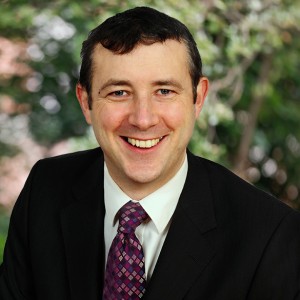 Deputy Moynihan was commenting after receiving a number of parliamentary replies from the Minister for Culture, Heritage and the Gaeltacht which basically lets the ESB off the hook for its actions.
"Let's call a spade a spade. The ESB ignored existing clear protocols and guidelines which requires them to seek approval from the Parks and Wildlife Service, under the EU Habitats' Directive, to engage in tree cutting irrespective of the weather conditions.
"Since the moment Storm Ophelia hit, I've been dealing with ESB directly on this matter, but it seems to me that they feel they were justified in their actions. Of course, health and safety is important, but we have very clear and detailed guidelines about how we treat our protected habitats.
"Health and Safety concerns go not give the ESB a carte blanche with regard to their actions.
"I hope that when the Minister says 'officials from my Department will be meeting with the ESB shortly on this matter and will then decide if any further action by my Department is required' means that she will pursue them over their actions, and take them to task for ignoring normal protocols.
"The Minister must ensure that ESB management understands that they didn't follow correct procedures, and that citing health and safety concerns does not confer on them unlimited powers. The ESB must follow the rules and must not go on solo runs.
"This cannot be allowed to happen again. The Minister must inform the ESB in no uncertain terms that unauthorised actions of this nature cannot, and will not, be tolerated in the future.
"During Storm Ophelia, ESB staff did a great job across the country. They worked incredibly hard but I'm afraid that what happened at Gearagh SAC was a major error.
"The net effect of the ESB's actions is a severely damaged special area of conservation which requires additional works to ensure that tree regrowth is supported.
"For local people, their ability to walk or run through the areas has been ended pending follow up works. This needs to be rectified as quickly as possible.
"This is a well-used local amenity and the priority must be on ensuring that local people can get back to enjoying it as they once did," concluded Moynihan.
For more information see media below: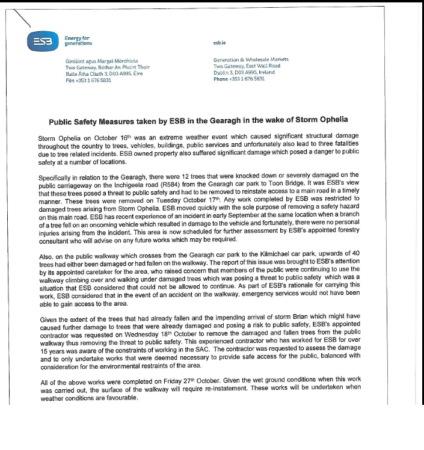 171115 Parliamentary Question – Reply to Moynihan re: Gearagh