27 November 2017
By Mary Bermingham
mary@TheCork.ie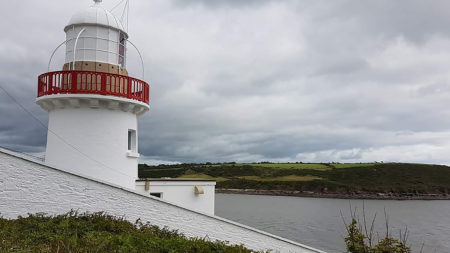 Youghal Lighthouse must be one of the most picturesque and iconic lighthouses in the Country. The fully operation lighthouse is located on the hillside overlooking Youghal Bay. Its location at the entrance to Youghal Town Centre and Youghal Harbour make an unique setting with the Lighthouse itself steeped in history. The first light tower to stand on this site was erected in 1190.
Cork County Council took ownership of Youghal Lighthouse from the Commissioner of Irish Lights in June 2014. The Council are acutely aware of is historical value and also of its potential to be a superb amenity which could be added to Youghal's growing list of heritage offerings. Having looked a little worse for wear, the lighthouse has recently benefited from a new coat of paint which has already transformed its appearance.
Bearing all of this in mind and recognising the potential the Lighthouse has, an application was made to the Department of Arts Heritage and the Gaeltacht under the Town and Village Renewal Scheme for funding to develop the lighthouse as a visitor attraction. The application was successful and plans are underway to open up the Lighthouse courtyard to visitors, develop a viewing area and through careful interpretation, tell the story of Youghal's Lighthouse and Maritime past.
Mayor of the County of Cork, Cllr Declan Hurley is delighted with the announcement of €78,000 towards the Youghal Lighthouse Project, "Our overall objective is to provide visitor accessibility to one of Youghal's most iconic sites and develop a significant addition to the suite of existing attractions for tourists to the town of Youghal. The Council owned attraction, Youghal Clock Gate has been a huge success and projects such as Phase 2 of the Boardwalk and the Midleton to Youghal Greenway are been driven strongly by Cork County Council. I have no doubt that the lighthouse will be a wonderful amenity for Youghal and for Cork."