21 January 2018
By Bryan Smyth
bryan@TheCork.ie
A capital city such as Dublin has many foreign Embassies.
A secondary city such as Cork has many Consulates.
A Consulate can be headed by:
a Career Consul (A civil servant from the sending country)
an Honorary Consul (A resident of the receiving country, who is usually involved in a private business of his own, and can use his existing office as an 'Honorary Consulate' when required)
Here in Cork, there are no Career Consuls, but there are plenty of Honorary Consuls, more than you might think!
Our listing below was compiled from public sources, then corrected using local knowledge, so in many ways it is more up to date than the listing of the Department of Foreign Affairs. This is because often Honorary Consuls move office, or leave Cork, and the Department's website might not reflect such changes for some time.
We hope that this page might be of some assistance to citizens of the respective countries requiring consular assistance. The photos will be invaluable in this regard. It's important to again note, that most Honorary Consuls have other work/life commitments, and their time is valuable.
While this list was correct at the time of writing (see top of article), it will doubtless change with retirements and new appointments over time.
________________________________________________
Belgium
Honorary Consul of Belgium
for Co Cork, Co Kerry, Co Carlow, Co Kilkenny, Co Tipperary, Co Waterford, Co Wexford
Mr Dominic J Daly
Appointed 1990
Royal Belgian Honorary Consulate
c/o Daly Auctioneers
Pembroke House
Pembroke Street
Cork City
Ireland
t: +353 21 427 7399
m: +353 87 255 0486
e: info@dominicjdaly.com
________________________________________________
Brazil
Honorary Consul of Brazil
Mr Brendan McAuliffe
Appointed 2015
Grattan Court
Washington Street West
Cork City
m: +353 87 905 3470
e: brendan@boxernet.net
________________________________________________
Denmark
Honorary Consul of Denmark
for Co Cork, and Co Kerry
Mr Freddie Pedersen
Royal Danish Honorary Consulate
'Combermere House'
Lackenroe
Glounthaune
Co Cork
office hours: 9.00-13.00, 14.00-17.00
t: +353 21 435 3051
m: +353 87 256 4505
f: +353 21 435 4275
e: pedersen@pedersen-eng.ie
________________________________________________
Estonia
Honorary Consul of Estonia
for Cork
Mr John Dennehy
Honorary Estonian Consulate
2nd Floor
78-80 South Mall, Cork City
t: +353 86 831 6365
e: john@dennehy.com
________________________________________________
Finland
Honorary Consul of Finland
Mr Conor Doyle
Finnish Honorary Consulate
"Westlands House"
Rushbrooke Commercial Park
Rushbrooke
Cobh
Co Cork
t: +353 21 420 2950
m: +353 87 259 0345
f: +353 21 481 2645
e: dconordoyle@eircom.net
________________________________________________
France
Honorary-Vice Consul of France
for Cork, Waterford, Tipperary, and a part of Limerick?
Mrs Patricia Mallon
Appointed September 2012
Honorary French Consulate
The 'Eoin C Daly Mallon' Building
13 Sheares Street
Cork City
t: +353 21 427 5244
f: +353 21 427 5243
e: pmallon@eoincdalymallon.com
________________________________________________
Hungary
Honorary Consul of Hungary
for Co Cork, Co Limerick, Co Kerry, Co Clare, Co Kilkenny, Co Carlow, Co Wexford, Co Tipperary
Mr John X Miller
Appointed February 2008
Hungarian Honorary Consulate
(address not known: was on North Main Street in a shared building, new address not known)
e: republicofhungaryhonoraryconsul@eircom.net
________________________________________________
Italy
Honorary Consul of Italy
Mr Roberto Gasperoni
Appointed November 2013
Italian Honorary Consulate
3rd Floor
112 Oliver Plunkett Street
Cork City
m: +353 085 110 9307
e: roberto.gasperoni@me.com
________________________________________________
Kazakhstan
Honorary Consul of Kazakhstan
Ms Sarah Kent
Kazakhstani Honorary Consulate
c/o Kentech
"Hexagon House"
Wallingstown Industrial Estate
Little Island
Co Cork
t: +353 21 497 6500
m: +353 87 410 3295
f: +353 21 497 6578
e: sarah.kent@kentech.ie
________________________________________________
Mexico
Honorary Consul of Mexico
for Co Cork & Co Kerry
Mr Michael Barry
Appointed 2012
Honorary Mexican Consulate
c/o Barry & Fitzwilliam Drinks Distributors
Ballycurreen Industrial Park
Kinsale Road (off Airport Road)
Cork
t: +353 21 432 0900
e: michael.barry@bandf.ie
________________________________________________
Netherlands
Honorary Consul of the Netherlands
for Co Cork, Co Kerry, Co Carlow, Co Kilkenny, Co Waterford, Co Wexford, and South Co Tipperary
Mr Michael Ronayne
Royal Netherlands (Dutch) Honorary Consulate
c/o Mainport
Monahan Road
Cork City
office hours: 9.00-12.30, 14.00-17.30
t: +353 21 431 7900
m: +353 87 261 5643
f: +353 21 431 1269
e: mronayne@mainport.ie
________________________________________________
Norway
Honorary Consul of Norway
Mr Mark Charles Pearson
Royal Norwegian Honorary Consulate
"Cois Laoi"
20 The Highlands
Glounthaune
Co Cork
t: +353 21 481 2645
m: +353 87 230 4289
e: mcpearson@eircom.net
________________________________________________
Portugal
Honorary Consul of Portugal
Mr George Richard Barter
Honorary Portuguese Consulate
c/o Barter's Travel Agency, 92 Patrick Street
Cork City
t: +353 21 485 1700
e: gbarter@travelnet.ie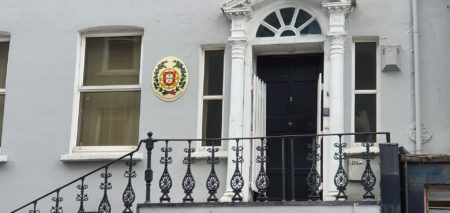 ________________________________________________
Seychelles
Honorary Consul of the Seychelles
Mr Barry Galvin
Honorary Seychellian Consulate
91 South Mall
Cork City
m: +353 87 248 8173
e: bstjgalvin@gmail.com
________________________________________________
Spain
Honorary Vice-Consul of Spain
for Cork City and Co Cork (excluding South West Cork)
Ms Catalina (Cathy) Goode
c/o Access Translations
5 Bruach na Laoi
Union Quay
Cork City
office hours: 09:00 – 17:00 Mon to Fri by appointment
t: +353 21 431 6022
f: +353 21 431 6073
e: viceconsuldecork@gmail.com
and
Honorary Vice-Consul of Spain
for South West Cork, and Co Kerry
Mr Diarmuid Oliver O'Donovan
Spanish Honorary Vice-Consulate
'Mediterranean House'
Bank Place
Main Street
Castletownbere
West Cork
t: +353 27 70104
f: +353 27 70348
e: cornelio_beara@yahoo.com
and
Honorary Vice-Consul of Spain
for South West Cork, and Co Kerry
Mr Maurice O'Keeffe
c/o Murphy and O'Connor Ltd
The Quay
Bantry
Co Cork
t: +353 27 50001
f: +353 27 50352
e: btagency@eircom.net
________________________________________________
Switzerland
Honorary Consul of Switzerland
for Co Cork, Co Kerry, Co Clare, Co Limerick, Co Tipperary, and Co Waterford
Ms Anne-Kristine Kjelsen
Honorary Swiss Consulate
Carrig Road
Kilmacowen
Eyeries (Beara)
Co Cork
t: +353 27 748 77
m: +353 83 808 0801
e: eyeries@honrep.ch