25 June 2018
By Elaine Murphy
elaine@TheCork.ie
In twelve weeks' time, the National Ploughing Championships (September 18th – 20th), Europe's largest outdoor event, returns to Offaly and a small business from Rosscarbery is getting 'ploughing-ready' thanks to Local Enterprise Office Cork North & West.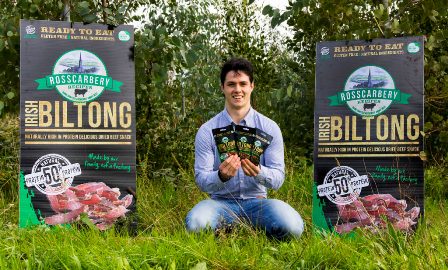 Under plans for the 'Local Enterprise Village', launched this week by the Minister for Trade, Employment and Business, Pat Breen T.D., Local Enterprise Offices (LEOs) are helping 30 small businesses and start-ups launch products and services to the thousands of visitors expected at the three-day event. 291,500 people, a record-breaking number, attended the National Ploughing Championships last year and Cork North & West will be represented in September by Caherbeg Free Range Pork Ltd t/a Rosscarbery Recipes.
The company was set up by Willie & Avril Allshire, in 2000, and their sons William & Maurice have been more recently involved. Given an interest in Crossfit & diet they launched a new Irish Billtong product, strips of dried biltong, a South African snack product, which is made from air-dried Certified Irish Angus beef and dried seaweed which is naturally high in protein, and ideal for gym goers.
Minister Breen met several Local Enterprise Village entrepreneurs at an LEO-run training day in Dublin last week, where they were learning about business development, product marketing and how to secure more sales for their small businesses. A second training day is taking place later in the month in Limerick.
Minister Breen said: "The Local Enterprise Office network is a key pillar in the Government's support for the growth and development of micro and small enterprises. By having dedicated supports in place to help small businesses at international events like the National Ploughing Championships, we are promoting trade and driving innovation and export growth for all business sectors across the country. I would encourage all visitors to the National Ploughing Championships in September to pay a visit to the Local Enterprise Village to support Ireland's start-ups and small businesses. The Local Enterprise Offices are central to the delivery of these dedicated supports, which help build a culture of entrepreneurship and enterprise, delivering jobs in every County in Ireland."
Minister Breen was joined at the launch in Dublin by Oisin Geoghegan, Chair of the Network of Local Enterprise Offices, Anna May McHugh, Managing Director of The National Ploughing Association, Martin Corry of Enterprise Ireland and Paula Butler, Assistant Chief Executive of the Local Government Management Agency and representative of the County and City Management Association.

Kevin Curran with Local Enterprise Office Cork North & West said: "As Europe's largest outdoor event, the National Ploughing Championships are an international showcase for Ireland's small business sector. To help small businesses get 'ploughing-ready', Local Enterprise Offices in local authorities across the country are providing expert training, marketing and project management support to maximise selling opportunities through the Local Enterprise Village."
Anna May McHugh, National Ploughing Association Managing Director said: "It is inspiring that so many small businesses and start-ups will be launching new products and services at this year's National Ploughing Championships' at the 'Local Enterprise Village' with the support of Local Enterprise Offices. This is a unique opportunity for these small businesses, with 291,500 visitors in attendance last year, to showcase their companies to the large number of visitors that Ploughing attracts."
The 87th Annual National Ploughing Championships take place from September 18th to 20th at Screggan, Tullamore, County Offaly. The 30 small companies inside the Local Enterprise Village represent a diverse range of business sectors, such as skincare, fashion, technology, artisan food and drink, sports equipment and horticulture.