4 August 2018
By Bryan Smyth
bryan@TheCork.ie
University College Cork this week are rolling out a new social media campaign encouraging people to return to the academic world as mature students.
Told through real-life stories, the series of incisive personal essays and quotes are accompanied by portraits of students with Cork city backdrops by Cork-based photographer Mike McSweeney.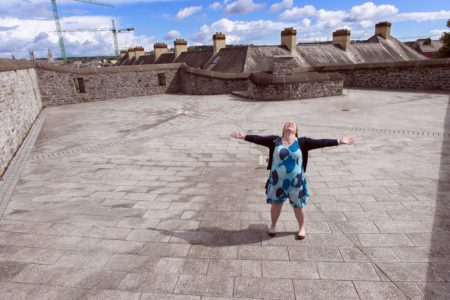 Capturing the idiosyncrasies of campus life for mature students, current students and graduates were asked to tell their stories of how they were inspired to return to study later in life. Their words are powerful and encouraging.
The campaign, which encompasses visually beautiful posts and tweets all this week, was developed around the fact that seeing a person who looks like, acts like or has skills in common with oneself has a transformative effect on confidence and aspirations, and successful role models can reset perceptions in a rich and far-reaching way.
According to Nóirín Deady, Mature Student Officer at UCC, university education is possible at any stage in life. "UCC prioritises life-long learning opportunities and gives a voice to the stories, struggles and achievements of mature students. The Mature Student Office in UCC supports mature students to achieve their goals."
Frank Dowling, a third-year Architecture student at the brand-new School of Architecture on Douglas Street, Cork City, reflects on his decision to return to education, after being officially discharged by the Marymount Hospice Home Care Team. "Previously, I had been diagnosed with terminal cancer in January 2015 and given about 10 months to live. My wife Gail and I discussed 'what next?' and she asked me what I wanted to do with the rest of my life, not knowing how long I would last!
"So why not make the best of the time that's left, and do something you'd enjoy? The choices under consideration were merely – go back into the world of work or go for a complete change…it all happened very quickly."
The campaign offers insights into the ups and downs of being a mature student, as well as advice. Joining a club and expanding her circle of friends helped Susan Garde to enjoy other aspects of college life. "The feeling of being part of something that isn't just academic shows a different side to college life that I hadn't experienced the first time I went to college as a fresh out of school student." She advises other mature students to "join a club or society if you can."
The best way to begin a long journey is with a first step, according to Noelle Reidy, whose journey through UCC started with a conversation with a friend about a History of Art Certificate evening course, before she eventually progressed to an MA in International Relations.
Ger O'Callaghan, a Master of Social Work graduate, comments: "Having worked in industry for most of my life, I found the atmosphere of support in UCC refreshing. When you enter UCC, everyone wants you to succeed, and they do everything they can to help you achieve it.
"Every time I passed the gates of UCC, I always wished I could go there, but never thought I would. So, when I got the chance, the fact that I was a mature student didn't matter. All that mattered was that I had a chance to do something I always wanted."