27 September 2018
By Mary Bermingham
mary@TheCork.ie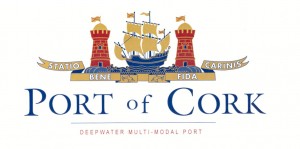 The Port of Cork today signed a contract with Liebherr Container Cranes to supply two post panamax size ship to shore (STS) container gantry cranes to the Port of Cork for the new Cork Container Terminal in Ringaskiddy. Following an open tender process Liebherr Container Cranes were awarded the contract.
The cranes will be designed and built in Killarney and are due to be delivered to the Port of Cork in Q1 2020. Liebherr Container Cranes LTD. are part of the Liebherr group and supply container handling equipment to ports and rail terminals worldwide.
Speaking at the contract signing, Port of Cork Chairman John Mullins said "We are very happy to be marking another significant milestone in the development of the new Cork Container Terminal. The ship to shore cranes are key superstructure for the project which will enable us to transfer port related activities from the city and Tivoli downriver to Ringaskiddy where larger ships can be accommodated in a state of the art container terminal."
Port of Cork CEO Brendan Keating commented "Today is another example of the positive economic impact of our port redevelopment. Liebherr are highly regarded internationally and we are delighted to be working with them in the delivery of a world class product produced here in Munster.
Director of Liebherr Container Cranes LTD. Pat O'Leary commented, "We are delighted to have received this order and to continue our longstanding relationship with the Port of Cork. In the 1970's, Liebherr Container Cranes supplied the first ship to shore container cranes to the port. Since that time we have supplied further cranes, including two grab cranes, two STS cranes in 1991 and 1999 as well as a rubber tyre gantry crane, all of which continue to be key elements of the port's infrastructure. Today, the signing of a contract for the supply of two new state-of-the-art STS cranes will help drive port productivity and boost business, not only in Cork, but also throughout Ireland. We look forward to adding these cranes to new Cork Container Terminal where no doubt, they will make a significant contribution to the port's business activities for many years to come.
Construction on the Cork Container Terminal got underway in June of this year and is due to be open for business in 2020. The overall €80 million project encompasses a new state of the art container terminal, a new public marine leisure amenity at Paddy's Point and also includes a €1 million community gain fund for the Ringaskiddy area.