20 April 2019
By Elaine Murphy
elaine@TheCork.ie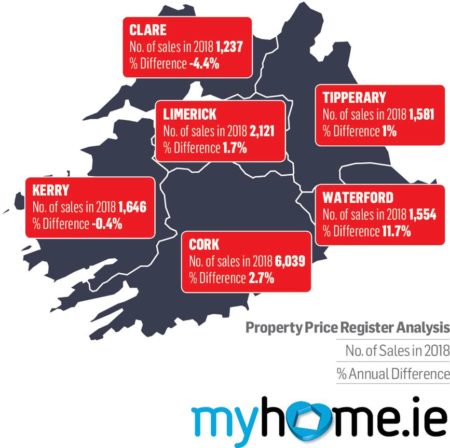 The level of residential property sales in Munster increased by 2.2% in 2018 to 14,178 according to an analysis of the Property Price Register carried out by leading property website MyHome.ie
This means that property sales in Munster accounted for 25% of total national sales of 56,836 last year.
While the number of sales may have risen by a relatively modest amount, the total value of property sales in the province increased by a much higher percentage, rising by 17% to over €3bn.
Although the number of sales rose in most counties, sales fell in Clare by 4.4% and by 0.4% in Kerry.
The number of property sales in Cork in 2018 increased by 2.7% to 6,039. This is 42.6% of total sales in Munster and over 10.6% of national sales which totalled 56,836.
The number of property sales increased by 11.7% in Waterford, easily the biggest increase in the region, although this is off a relatively small base. As a result of that jump the county also recorded the biggest increase in the value of sales, the figure rising from €214m to €272m, an increase of 27.5%.
The value of Cork sales also increased dramatically, rising from €1.36bn to €1.63bn, an increase of just over 20%, while the value of sales in Limerick rose by 20% from €345m to €412m.
The Managing Director of MyHome.ie, Angela Keegan said the figures reflected Cork's economic strength and a general move towards increased urbanisation.
"The value of transaction in Cork was up significantly in 2018, with the sale of several high-profile apartment buildings – including the Elysian building with over 200 apartments which were sold for around €70m – contributing to the increase."