13 June 2019
By Mary Bermingham
mary@TheCork.ie
The 800 strong team in MSD Brinny recently embraced flower power to raise an incredible €30,000 to celebrate Daffodil Day 2019, which will be used to fund the Irish Cancer Society's free supports for cancer patients. The funds were raised through a creative combination of activities which included a 'Tour De Brinny' cycling event, sponsored head-shaves, a canteen bingo, a basketball challenge, a cake sale and visits to 11 schools within the local community.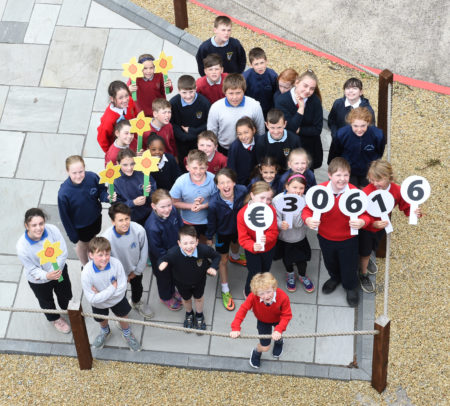 Each year, MSD Ireland's five sites support the Irish Cancer Society's Daffodil Day appeal and this year was certainly no different, with a total of €39,508 raised nationally by the company's 2,100 staff in Carlow, Cork, Dublin and Tipperary.
Daffodil Day is the biggest and longest running fundraising day for the Irish Cancer Society, Ireland's national cancer charity. Funds raised support life-saving cancer research and helps the Irish Cancer Society deliver essential services for patients.
Barry Mulcahy, Site Lead at MSD Brinny, said, "We're delighted to have worked with the community to help raise much needed funds for the Irish Cancer Society. Over the last six years, employees at MSD Brinny have raised over €120,000 for the Irish Cancer Society and Daffodil Day activities. We've improved our fundraising efforts year on year, and we're delighted to support the work of the Irish Cancer Society within our community, which undertakes such valuable work both locally and nationally. This donation wouldn't have been possible without the dedicated efforts and enthusiasm of our employees at MSD Brinny, who willingly gave up their time to organise a host of fun events on-site, as well as visiting local schools to raise awareness of the Irish Cancer Society amongst students in Cork."
Mark Mellett, Head of Fundraising, Irish Cancer Society said, "Each day in Ireland, 150 people are diagnosed with cancer. Because more people are getting cancer each year, not everyone is getting the care and support they need. The Irish Cancer Society is determined to be there for every cancer patient. But as 98% of our funding comes from donations, we cannot do this without the support of companies like MSD Brinny. This incredible donation will fund lifesaving research and ensure cancer patients and their families can access free support services to help them cope. Services include emotional support and advice from Cancer Nurses in our two Cork based Daffodil Centres, free local counselling sessions and Night Nursing care in the home. Thanks to all at MSD Brinny for their Trojan fundraising efforts, and for making a real difference to the lives of people affected by cancer."
One of the region's largest employers, MSD Brinny has a long and proud tradition of manufacturing excellence as well as a strong legacy in the biopharmaceutical sector, and has been a vibrant part of the local Innishannon community for nearly 35 years. The Brinny site specialises in the development and commercial supply of biotech products, including some of MSD's most successful treatments for Oncology, Hepatitis C and Rheumatoid Arthritis.
MSD Ireland is one of the country's leading healthcare companies, having first established here over 50 years ago. The company currently employs approximately 2,100 employees, across five sites in Ballydine, Co Tipperary, Brinny, Co Cork, Carlow and Dublin and, in addition, operate substantial Human Health and Animal Health businesses. MSD's Irish sites manufacture approximately half of MSD's top twenty products, saving and enhancing lives in over sixty countries around the world. For further information please visit www.msd.ie or www.msdirelandjobs.com.