26 June 2019
By Elaine Murphy
elaine@TheCork.ie

A major Teagasc Open Day for the Irish dairy industry will take place in Teagasc Moorepark, Fermoy, Co Cork, on Wednesday, 3 July. The theme of the Teagasc Moorepark '19 Open Day is 'Growing Sustainably', and the overall sponsor of the event is FBD Insurance, with additional support from Ulster Bank and Ornua.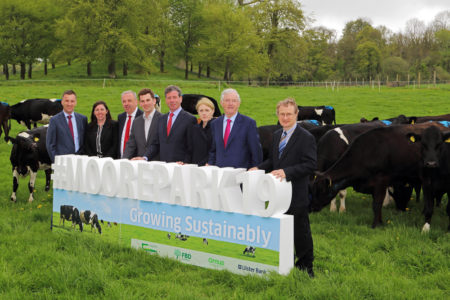 The structure of the Irish dairy industry has changed significantly in recent years with the abolition of EU milk quotas. Cow numbers have increased by over 30 per cent, while milk production has increased by over 50 per cent. Exports of Irish dairy products and ingredients have increased from €2 billion to over €4 billion in 2018. At farm level, this has resulted in increased farm profitability. New challenges in relation to climate change, water quality and availability of an adequate supply of skilled labour are facing the industry. Therefore, 'Growing Sustainably' is critically important for the Irish dairy industry.
Speaking at the launch of the Open Day, Liam Herlihy, Chairman of Teagasc, said that "The Irish dairy industry is facing a number of challenges in relation to climate change, water quality and availability of an adequate supply of trained and skilled labour. The dairy industry going forward will balance environmental, economic and social outcomes while providing natural, high quality products that are known throughout the world. This Teagasc Open Day will provide guidance to farm families to address these challenges."
Sustainable growth requires that dairy farming systems are financially profitable, environmentally friendly and socially acceptable. Michael Berkery from FBD Trust said; "The economic sustainability of Irish dairy farms is influenced by on-going market volatility and a competitive international dairy market, which will continue to put pressure on Irish dairy farmers to be highly efficient and cost-effective."
"Global consumer demand for natural, sustainably sourced dairy is increasing and Ireland's grass-based family farming system is uniquely positioned to meet this demand. To continue to do this successfully, we must ensure sustainable growth. The Dairy Open Day is an excellent platform for the farming community to share how it is addressing the sustainability challenges facing the industry and provide farmers with the guidance and support they need." Jeanne Kelly, Ornua.
Irish pasture-based production systems offer a natural competitive advantage for Irish dairy products on the world market, as well as being carbon efficient with minimal nutrient losses to the environment. The dairy industry is committed to meeting Ireland's climate change goals through identifying and implementing strategies to reduce, or offset greenhouse gas emissions from dairy farming. Likewise the dairy industry is committed to working collaboratively with government, regional and local councils to protect and nurture the environment.
Ailish Byrne from Ulster Bank stressed that "All dairy farm businesses need to implement best employment practices and provide a safe working environment. The adoption of new technologies to improve all aspects of the industry are required to achieve the necessary productivity and efficiency gains on the farm. Ulster Bank is ready to support farmers in what ever way we can to fulfil their ambitions."
At the event on 3 July, there will be a network of themed villages for farmers to visit, which includes demonstrations on grazing management, reseeding, farm infrastructure, body condition and locomotion scoring, high EBI genetics, and health and safety. There will be workshops on milk quality, anti-microbial resistance, new entrants to dairy farming and labour management. A large range of Irish dairy products will be on display promoting their image, quality, taste and nutritional credentials. There is a shared consensus that the highest standards of animal welfare are critical to the on-going success of the dairy sector.
In the afternoon there will be Questions and Answers panel discussion facilitated by Sharon Ní Bheoláin from RTÉ News. The panel consists of national experts who will discuss 'Meeting the Challenges and Opportunities of Continued Dairy Expansion'.
Teagasc Moorepark '19 will be a day not to be missed by anyone with an interest in the Irish dairy industry. The Open Day will run from 8.30 am – 5.00 pm. A comprehensive booklet will be provided. Admission and parking is free.