21 July 2019
By Mary Bermingham
mary@TheCork.ie
The Minister of State at the Department of Health with responsibility for Mental Health and Older People, Jim Daly T.D., earlier this month attended the official launch of a multi-million-euro private investment plan to develop a pioneering Memory Care Village at Oaklodge Nursing Home in Cloyne, Co Cork.
The family-owned and run facility, which recently received a 100% full compliance rating from HIQA, is set to more than double in size and capacity from 24,000 sq ft to 56,000 sq ft, increasing from 65 beds to 120 beds when it opens in 2020, providing 55 new jobs for the region.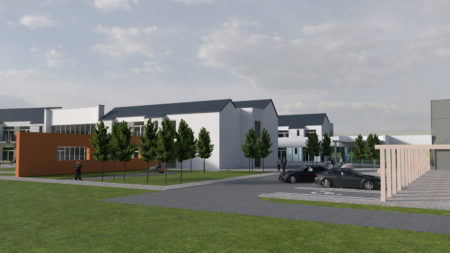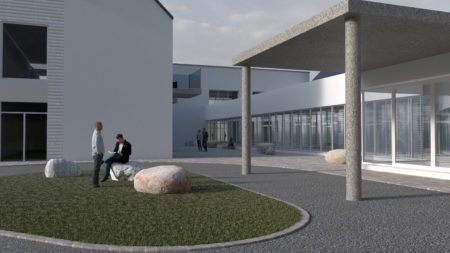 The new Memory Care Village, which will be situated adjacent to the existing nursing home, will have 8 independent houses and all residents will have their own private gardens and front door, giving an even greater sense of independence. Each home will be shared by 6-7 residents, all with private rooms. These pioneering efforts to provide improved private care facilities are being made in response to the Government's call earlier this year to develop more independent living spaces for older people living in care.
The village, which was designed by Scott Tallon Walker Architects and is inspired by the Blasket Islands, will also have a gym, spa, hair salon, shop, post office, art studio, and chapel, making it the largest dementia care village of its scale and kind in Ireland.
Around-the-clock care will be provided to ensure the comfort and well-being of residents, and staff will still assist with everything from cooking and activities, to bathing, personal care and medications, depending on requirements. Staff working in the various village businesses will also be trained in dementia care to help those with Alzheimer's go about their day in a more positive and stimulating way. Day-care and community out-reach facilities will also be offered.
Oaklodge is set in a beautiful rolling countryside setting with views of the Galtee, Knockmealdown and Commeragh Mountain ranges as well as East Cork Coastal sea views. As resident safety is of paramount importance, the pioneering nursing home which was built in 2005 on a 10-acre site, will be fully secure so residents have the freedom to explore within its confines.
The Oaklodge Memory Care Village is modelled on similar overseas successful ventures such as the Greenhouse Model and the Eden Alternative in the USA, as well as the Hogwejk dementia village in Holland on the outskirts of Amsterdam.
Commenting on the investment announcement, Diarmuid Ó Dálaigh, managing director of the family run and owned nursing home, said the care home's expansion was due to an increase in demand, with a rise in the number of older people living with dementia in Ireland, and also in response to the government's call earlier this year to develop more independent living spaces for older people in care. "Ireland has an estimated 55,000 people living with dementia with 11 new cases reported every day). At Oaklodge, we specialise in care for persons living with memory loss, so we wanted to lead the way in offering new person-centred care options to empower people with this condition.
"Our residents will have the opportunity to live in shared accommodation with 5 or 6 other housemates, all with their own private bedrooms and shared communal areas. They will have their own front door and garden, and they will live in a village environment, giving them a real home away from home experience, whilst also having the comfort of full nursing home care. There is proven research that such a setting will reduce stress and enhance dignity and happiness. There is nothing of this scale in Ireland."
This is the first nursing home in Ireland to be built in accordance with the Government's Joint Policy statement on 'Housing Options for our Ageing Population' last February.
Speaking at the launch, Minister Jim Daly T.D. said: "Earlier this year, Minister Damien English and I asked and listened to what older people want in terms of housing, and we put forward a joint statement on housing plans for our aging population.
"The plans unveiled for Oaklodge Nursing Home more than comply with the objectives and recommendations outlined in the 40-point plan. I would like to congratulate Oaklodge and I look forward to witnessing the development of more state of the art homely village style living units that will meet the needs of residents and enable them to live with the care and dignity they require and deserve while maximising their independence. I hope this is replicated elsewhere in the country."
Oaklodge Nursing Home, which comprises of a general care unit and a specialised Alzheimers/dementia care unit, recently received a full compliance rating from HIQA, the independent authority that exists to improve health and social care services for the people of Ireland. The innovative and award-winning care home also works with local and international dieticians and nutritionists like Jane Clarke from Nourish and Ballymaloe to create the best foods and diet for older people to prevent and slow down the aging process. For more see www.oaklodgenursinghome.ie