17 October 2019
By Mary Bermingham
mary@TheCork.ie
UK's largest hotel business ramps up expansion in Ireland with fourth site acquisition, but will the design be accepted by the Planning Authority?
Situated in a prime location at Morrisons Quay on the banks of the River Lee, the new 183-bedroom Cork Premier Inn hotel will be at the heart of the city's rapidly expanding and dynamic cultural centre.
Whitbread, the owner of Premier Inn working with its development partners Greenleaf Group and Warren Private, has secured a deal for a new Premier Inn hotel in Cork city centre, marking its first site in Ireland outside of Dublin.
Premier Inn is expanding rapidly into Ireland as it grows its presence from a single hotel at Dublin Airport to 3,500 rooms in Dublin and across the country.
TheCork.ie comment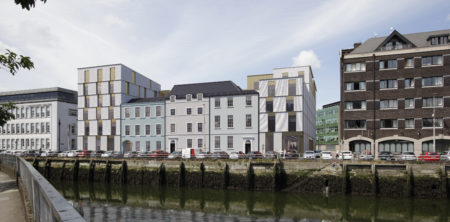 The artist's impression of the new Hotel is not to everyone's liking. It is not the 'glass box' modern design which would reflect the School of Music opposite, while on the other hand it is not vernacular like the buildings it replaced. The left section is taller than the College of Commerce. However, this could change. Planning Permission has not yet been granted so Cork City Council may yet refuse the development in its current form. The Cork City Council Planning. Reg. No. is 19/38740. The application by Quakeside Ltd was received on 01/10/19, meaning a decision will be due on 25/11/19, although sources in City Hall indicate it is likely to request further information which could push a decision out by up to 6 months from the date of request. As with all Planning Applications, members of the public may make a public observation on payment of €20.
The application, to be specific, is for
Permission… for the demolition of c.2116.76 sqm of existing buildings. The conservation, modification and restoration of the 3 nos. protected structures, no. 11, 12 and 13 Morrisons Quay to accommodate 3 new own door office buildings (measuring c.1093.9sqm). To the north, south and west of the 3 protected structures a new build 4 to 6 storey mixed use development comprising office and hotel development is proposed containing 183 hotel bedrooms, seating areas, and ancillary restaurant, public bar, kitchen, hotel areas/offices, associated staff areas, changing/shower rooms, toilets, stores, bin and bicycle stores, stair/lift cores and circulation throughout along with a courtyard at ground level and plant at ground floor and roof level. The gross floor area of the hotel will be c.6663.1 sqm. The ground floor, first and second floor of the new building fronting onto Catherine Street will be an office development, with hotel rooms above. There will be pedestrian accesses to the offices from Morrisons Quay and Catherine Street and to the hotel from Morrisons Quay and Keeffe Street. Permission is also sought for lighting and signage and a small basement for a water tank along with water attenuation. All other site development and site services works as required to enable the development of the site. The existing buildings no's. 11, 12 and 13 Morrisons Quay are protected structures.
Speaking about the development in positive terms, Kevin Murray, Head of Acquisitions for Whitbread in Ireland, said:
"Securing a new Premier Inn hotel at Morrisons Quay is a major milestone in our expansion into Ireland as it marks our first site outside of Dublin. Cork has an exciting future as a cultural and educational centre, so we see real potential in the business and leisure markets here. With significant additional bedroom requirements, we're actively seeking freehold and leasehold opportunities for Premier Inn right across the country".
After signalling its intent to expand into the Irish market last year, Whitbread has secured more than 500 Premier Inn rooms in Dublin city centre in three hotels – at South Great George's Street, Jervis Street and Castleforbes Business Park. The hotels are planned to open from early 2021 onwards.
Premier Inn's first site in Cork is within a five-minute walk of Cork's new events arena currently under construction, next door to the College of Commerce and across the river from the internationally renowned School of Music and the new University of Cork Business School, due to open in 2023. The hotel will be delivered alongside the conversion into offices of three protected buildings currently on the site.
Speaking about the development in positive terms, Mark Elliott, Director of Dublin-based Greenleaf Group said:
"The proposed development at Morrisons Island is an important regeneration scheme for Cork. It covers a prominent and vacant city block on Morrisons Island. The objective behind the proposed development is to re-utilize the existing and protected buildings, which are currently neglected, and create a vibrant new building of the highest quality on the remaining land. We hope that the proposal will be well received by Cork City Council and we look forward to working with all stakeholders during the planning and development of the site."
After growing in Dublin and Cork Whitbread sees the potential for Premier Inn hotels in other cities including Galway, Limerick and Killarney. The business is seeking sites as freeholds, leaseholds, office to hotel conversions as well as going concern purchases.
Speaking about the development in positive terms, Dan O'Connor, Executive Vice President of Hotels and Hospitality at JLL, who has been working with Whitbread on its expansion in Ireland added:
"Cork is a very strong hotel market, which recorded double-digit RevPAR growth of +14% in 2018. JLL are delighted to assist Whitbread in securing one of the most central sites in Cork, which is also a significant milestone in their nationwide rollout."
Outside of the UK and Ireland, Whitbread is expanding rapidly in Germany with three Premier Inn hotels open and trading more than 7,000 bedrooms in the secured pipeline. In the UK and Ireland, the business sees the potential or 110,000 Premier Inn rooms.