7 November 2019
By Elaine Murphy
elaine@TheCork.ie
Over 160 acclaimed national and international filmmakers and talent will present their work at the 64th Cork Film Festival, which commences this Thursday (7 November) with the Opening Gala of Ordinary Love. Running from 7 – 17 November, the opening weekend of the Festival's 11 days of cinema, featuring over 300 Irish and international features, documentaries, shorts and events, will also include a special preview of the first two episodes of the second season of The Young Offenders. For full details, see corkfilmfest.org.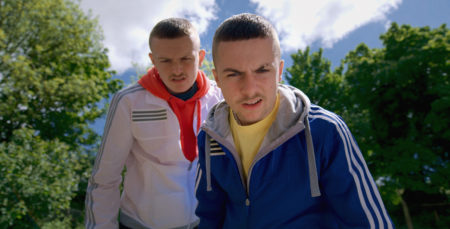 National and international filmmaking talent attending a packed opening weekend in Cork include Ordinary Love directors, Lisa Barros D'Sa and Glenn Leyburn, along with producer Brian J. Falconer for the Opening Gala Irish premiere, ahead of the film's general release on 6 December. Director Tom Waller will also be present for a Q&A following the screening of The Cave, a thrilling recreation of the 2018 Thai cave rescue, on Saturday, 9 November. On the same day, the Festival plays host to a special preview of the second series of The Young Offenders with a screening of the first two episodes of the smash hit RTÉ and BBC show, followed by Q&A with the creator Peter Foott, commencing at 4pm in The Cellar Theatre in the Mardyke Entertainment Complex.
Further attendees for the opening weekend of Ireland's first and largest film festival include Lost Lives directors Dermot Lavery and Michael Hewitt, who will participate in a Q&A following their powerful documentary chronicling the 3,700 people killed in the Troubles. Director Claudia Marschal will also attend the 64th Cork Film Festival as her striking documentary charting the journey of two sisters to a hoped-for better life In Our Paradise is screened Friday, 8 November. Migual Llansó, director of Jesus Shows You The Way To The Highway, a gloriously wild sci-fi cold war action thriller, will also take part in a post-screening discussion on Friday. Director Martha Stephens will conduct a Q&A following her American coming-of-age story To The Stars on Sunday, 10 November.
Donald Clarke, Chief Film Correspondent of The Irish Times will introduce Rob Garver's captivating documentary What She Said: The Art of Pauline Kael, on Monday, 11 November, which explores the life of influential and maverick US film critic Pauline Kael.
Festival Director and CEO of Cork Film Festival, Fiona Clark said: "The opening days of the 64th edition of the Cork Film Festival set the tone for our ambitious, bold and striking programme. From the heart-breaking yet heart-warming Opening Gala love story Ordinary Love, which stars Liam Neeson and Lesley Manville in OscarⓇ-worthy performances, to the powerful and timely documentary, Lost Lives, which chronicles the lives ended by violence in Northern Ireland, this year's programme showcases the latest and best in independent cinema, reflecting the world we live in, and harnessing the unique power of film to tell and share our stories."
Speaking on some of the key features over the coming days, Fiona added: "We are delighted to screen Irish premieres of celebrated films including Scott Z. Burns' political thriller exposing CIA methods post 9/11 in The Report this Friday; and Le Mans '66, the high-octane story of Ford vs Ferrari, starring Matt Damon and Christian Bale. On Saturday, we present Michael Winterbottom's biting, brilliant provocative satire on the trappings and tantrums of a billionaire retailer, Greed, starring Steve Coogan, while on Sunday, we welcome Levan Akin's award-winning And Then We Danced, a vibrant social drama set amongst a dynamic Georgian dance ensemble. Another key film on opening weekend is The Nightingale, a dark tale of revenge in colonial Australia featuring an astonishing and powerful performance from Ireland's own Aisling Franciosi."
Further highlights include maverick auteur Denis Côté's mesmerising ghost story Ghost Town Anthology (Répertoire des villes disparues) and the Irish-Canadian-UK drama Sweetness in the Belly, adapted from award-winning novelist Camilla Gibb's bestseller. This love story starring Dakota Fanning explores an immigrant's life from a unique perspective, and is directed by Zeresenay Berhane Mehari. Also being screened are American psychological thriller Knives and Skin, which follows the investigation of a young girl's disappearance in the rural Midwest; and Mounia Meddour's debut feature Papicha, an energetic feminist statement, as daring as it is timely about a free-spirited Algerian student.
Speaking on the calibre of documentaries at this year's Festival, Programme Director Michael Hayden said: "Lost Lives is an elegiac, powerful and sadly pertinent film acknowledging the human cost of 50 years of sectarian conflict in Northern Ireland and comes at a time when the fragility of the peace process is distressingly evident. In In our Paradise, Claudia Marschal has been granted intimate access to the lives of some remarkable characters in this striking, empathetic documentary that gives a valuable voice to the ignored and unheard while addressing relevant issues about migration, identity, racism and nationhood with veracity and urgency.
"After seeing Rog Garver's What She Said: The Art Of Pauline Kael, a superb, insightful and important documentary portrait of perhaps the one true titan of film criticism, I reread her New Yorker piece on Bonnie and Clyde. It is a brilliant piece of writing, thoughtful, righteous, impassioned. The essay made her name, saved Arthur Penn's film from ignoble obscurity and ushered in the voices that would shape Hollywood during the next decade. There really isn't anyone writing about film now like Kael and there is a strong case there never has been."
The much loved 1992 film Into the West, written by Jim Sheridan, will also be screened on opening weekend, with further screenings across Cork county in Midleton and Mallow on Saturday, 16 November. Jointly presented by the Irish Film Institute, this is a rare opportunity to enjoy a new digital restoration of this Irish family classic in cinemas. The film is preserved by the IFI Irish Film Archive. The 64th Cork Film Festival will also screen the much-loved classics, Bonnie and Clyde on Saturday and glorious musical Singin' in the Rain on Sunday, both at The Everyman.
Cork Film Festival is proudly supported by Principal Funder the Arts Council, along with Cork City Council, Screen Ireland, Fáilte Ireland, Screen Skills Ireland, Culture Ireland, Creative Ireland, Fundraising Fellowship Ireland, ESB Energy for Generations Fund and Creative Europe Media. Principal Venue Partner is The Gate Cinemas; Principal Accommodation Partner is The River Lee; and Principal Drinks Partner is Murphy's.