23 September 2020
By Elaine Murphy
elaine@TheCork.ie
What is Ballymaloe Foods?
The company has 33 staff and 18 products and exports into the UK, Germany, the Netherlands, Australia and the US and its products include relishes, mayonnaise, pasta sauces and dressings.
Three of Ballymaloe's Foods products have been awarded stars at this year's prestigious Great Taste international awards, run by the Guild of Fine Food in the UK. The Great Taste awards are known as the world's most trusted food and drink awards.
Ballymaloe Pickled Irish Beetroot was awarded two stars while Ballymaloe Original Relish and Ballymaloe Mayo were both awarded one star each. The beetroot used by Ballymaloe Foods has a strong level of connection to the farm – it is all grown locally in East Cork.
General Manager at Ballymaloe Foods, the Maxine Hyde said the company is delighted with the accolades and they are especially welcome this year as they celebrate 30 years in business.
Ms Hyde said: "We are over the moon to get such great news. We are so proud of our products and these awards are thanks to the hard work of our employees. We are so grateful to all our customers and suppliers who support these products every day."
On Ballymaloe Pickled Irish Beetroot the award judges said: "The aroma is of pure, garden-fresh beetroot. In the mouth, this teases with a clever balance between the natural sweetness of the beetroot and the well-pitched acidity of the vinegar. So often, preserved beetroot disappoints due to the use of poor quality vinegar which serves only to give a stringent acidity that overwhelms the flavour of the beetroot. This is the complete opposite – this is pure, beautiful beetroot, naturally sweet and packed with all the sweet earthiness we expected. The beetroot has retained its natural crunch. So clever – so well done."
Ballymaloe Original Relish and Ballymaloe Mayo were both awarded one star each. On the Relish the judges said: "A bright, shiny, deep red chutney with an aroma of tomato and vinegar. These two are the pronounced flavours on tasting – sweet tomato balanced with a good bite of acidity."
On Ballymaloe Mayo the judges said: "It is not often we are happy to eat mayonnaise on its own by the spoonful but in this case we were. We think this is a great example of how shop-bought mayonnaise should be."
In total 5,294 awards were given to products from over 100 different countries, 396 awards were presented in Ireland.
The Guild of Fine Food's Great Taste awards values was founded in 1994 and are seen as a stamp of excellence for food products. There are 144 judges and they include food critics, chefs, restaurateurs, retail buyers, cooks, producers, food writers and journalists. The judging lasts 14 weeks. All products are removed from their packaging before being tasted.
This month Ballymaloe Foods is celebrating 30 years in business. The company is planning a month of celebrations to thank their customers, staff and suppliers for their support over the years.
Ballymaloe Foods was established by Yasmin Hyde, the daughter of Myrtle Allen 30 years this year. Myrtle established a country house hotel and restaurant at Ballymaloe in the 1960s and it was here she developed her now famous, Original Relish recipe. In 1990, Yasmin decided to start Ballymaloe Foods from her kitchen.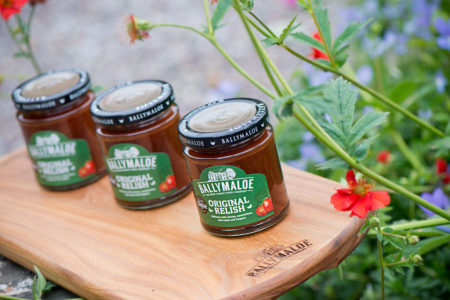 Ballymaloe Original Relish
Photo Joleen Cronin