5 September 2023
By Bryan McCarthy
Bryan@TheCork.ie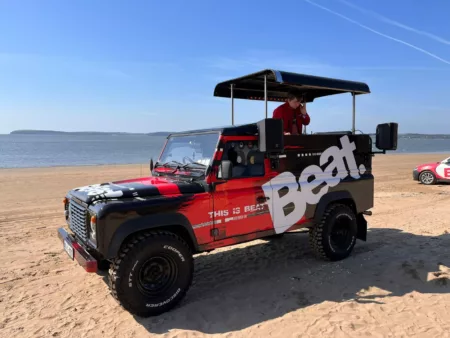 After marking its 20th birthday this summer, regional radio station Beat 102-103 is motoring into a new decade with a brand-new product offering. This is the first time a regional, youth music radio station in Ireland has invested in an Outside Broadcast Unit. Up to now, promotional, outdoor, live broadcast vehicles in Ireland have been synonymous with local and national radio stations.
Earlier this year, Beat's shareholders Irish Times and Des Whelan gave the green light to fund this new commercial solution. Over the summer months, the design and vehicle conversion transformed the iconic Landrover Defender into what the creative team at the station is confident will be its own iconic "Beat Beast" brand, with time.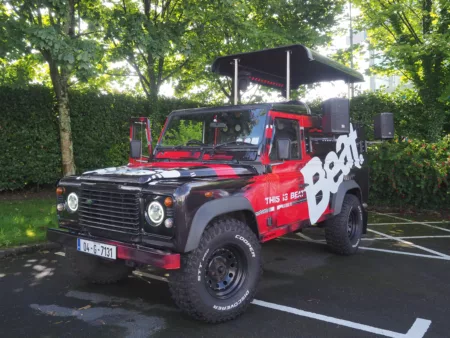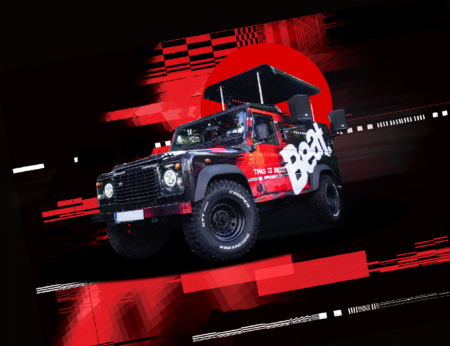 The project was managed by Broadcast Centre engineer, Dean Robinson. Once he sourced the vehicle, Dean contracted Waterford based company Mad Racing to convert the 3 tonne machine into a high quality and quirky mobile broadcast unit. Dean highlighted that "most OB units are large so this project was a challenge to deliver a compact unit that would still be highly functional for presenters and music DJs". "The aim was to create a unique, eye catching, music led OB, in keeping with Beat's well-known reputation for 'doing things a little differently' & I'm confident we've achieved that with the Beast!" added Dean.
From a technical perspective, the vehicle will require no power supply, is totally self-sufficient & the plan is to add solar panels in a later phase to improve sustainability. The OB unit is kitted out with 3 Mobile 5G broadband, and Vodafone 5G broadband. In the unlikely event that coverage is poor in a specific location where the station wants to broadcast, the default backup is the much talked about, Elon Musk owned Starlink satellite broadband.
Tom Murphy, owner of Mad Racing Waterford has described the project as "fun and exciting, where we got to use our extensive knowledge of fabrication, out-of-the-box thinking, and specialised skill set to create something unique and MAD. We're sure it'll bring an inspirational BEAT to everyone".
After a competitive tender process to select the company that would design this innovative new station offering, Neworld won the contract. Beat's CEO Gabrielle Cummins has praised the award-winning national brand design company for once again exceeding the Beat Brief. "Pat Kingsley and the team at Neworld devised Beat's original logo twenty years ago, they reimagined Beat's brand identity in 2016 and now this, the brilliant Beat Beast".
Beat's Commercial Director Michael Barry is looking forward to presenting this new commercial offering to Beat's loyal client base including 162,000 loyal weekly listeners and added "our clients are always looking for new ways to grab the attention of their customers so with the Beat Beast we know we can create an even greater stir than what they've come to expect from partnering with Beat over the last two decades". To book or find out more information, email Beast@beat102103.com.