30 Septmeber 2023
By Bryan McCarthy
bryan@TheCork.ie
The Mayor of the County of Cork, Cllr Frank O'Flynn, and winners, Amy Cotter, 1st, Kamil Labuda, 2nd, and Ellie O'Connell, 3rd, at Cork County Hall for the award ceremony of the Cork County Age Friendly Architecture Competition.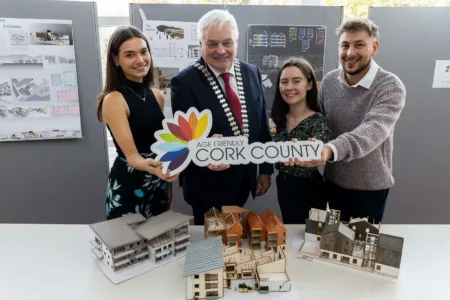 The Mayor of the County of Cork, Cllr. Frank O'Flynn, had the pleasure of presenting the awards to the exceptional talents behind the winning entries in the Cork County Council Age Friendly Housing Competition. This competition, proudly supported by Cork County Council and the Cork Centre of Architectural Education (comprising UCC and MTU), provides a platform for second-year architecture students to showcase their ingenuity in designing age-friendly housing solutions.
This year's challenge focused on the creation of community-based, age-friendly designs, with a special emphasis on disability-aware design. Notably, the competition was conducted in partnership with the Cork County Architects and the Cork Age Friendly Alliance, both of whom actively participated in the evaluation of the student designs.
Amy Cotter emerged as the recipient of the prestigious first-place award for her outstanding project, while Kamil Labuda secured the second-place position, and Ellie O'Connell was placed third. During the award presentation, Mayor Frank O'Flynn expressed his thoughts on the competition, stating,
This competition serves as a catalyst for our aspiring architects to conceptualise housing schemes tailored to the unique needs of our aging population. It encourages them to break free from convention and conceive homes that are universally designed, fully accessible, secure, and welcoming, ensuring lifelong comfort and convenience.
The remarkable designs created by these talented students will be on public display on the ground floor of Cork County Hall, located on Carrigrohane Road. The exhibition will run from 10:00 am to 4:00 pm, Monday through Friday, until October 6th, offering a wonderful opportunity for the community to appreciate these innovative architectural solutions.