1 November 2023
By Roger Kennedy
roger@TheCork.ie
Ah, Christmas! The season brimming with cosy warmth, quality family time and the heavenly scent of homemade treats wafting through the house. A time when our hearts are as chock-a-block as our bellies. 
So, what's the secret ingredient to make this festive season unforgettable? Chocolate, of course! As we dive into the season of Christmas feasts, let's not forget Ireland's enduring love for chocolate. According to Stellar Market Research, "Ireland is one of the dominating markets for the chocolate confectionery." No wonder these chocolate-infused recipes are such a hit every holiday season!
Read on for some delicious recipes and gifting tips that will turn our national chocolate addiction into an integral part of this festive season.
Chocolate Christmas Pudding: The Showstopper
What You'll Need
Ingredients For the Pudding:
175g unsalted butter (room temp & extra for greasing)

50g cocoa powder (and some extra for dusting)

100g caster sugar

50g soft brown sugar

3 large free-range eggs

½ tsp bicarbonate of soda

2 tsp baking powder

150g plain flour

1 tsp ground ginger

1 tsp ground cinnamon

50g chopped hazelnuts

1 tsp vanilla extract

75ml milk

100g dark chocolate chunks, roughly chopped
Ingredients For the White Chocolate Sauce:
200g white chocolate chunks

80ml double cream
Equipment:
1.5-litre pudding basin

Electric mixer

Baking paper

Large pan with a lid

String
Step-by-Step Guide for Pudding:
Basin Prep:

Butter your pudding basin, dust with cocoa powder.

Mix it Up:

With an electric mixer, blend butter and both sugars till light and fluffy.

Egg Mix:

Add eggs gradually, mixing after each addition.

Dry Stuff:

In a different bowl, combine flour, cocoa, baking powder, and bicarbonate of soda.

Merge:

Sift dry ingredients into the wet mix, fold them in.

Flavour Boost:

Fold in spices, hazelnuts, vanilla, milk, and dark chocolate.

Fill the Basin:

Pour your final mix into the pudding basin.

Paper and Foil:

Use baking paper and foil to seal the basin. Secure with string.

Steam Time:

Place the basin in a large pan. Fill pan with boiled water till half of the basin is submerged. Cover and simmer for 90 minutes.

Flip & Unveil:

Remove foil and paper, flip pudding onto a plate.
Making White Chocolate Sauce
Heatproof Bowl:

Place white chocolate and cream in the bowl.

Melt:

Set the bowl over simmering water. Stir till melted.

Drizzle:

Let it cool, then pour over your pudding. Voila!
Quick FAQs
How long will this last?
3-4 days in the fridge.
Can I replace hazelnuts?
Almonds or pecans work too.
Can I use dark chocolate for sauce?
Absolutely, but it will alter the taste.
🍫 Pro Tip: Add a sprinkle of sea salt to your sauce for a taste explosion!
Mince Pies with Chocolate: A New Twist on an Old Favourite
What You'll Need
Ingredients For the Pastry:
125g unsalted butter (chilled and cubed)

50g icing sugar

1 medium egg

250g plain flour (and some extra for dusting)
Ingredients For the Filling:
410g mincemeat

110g 70% dark Belgian chocolate, chopped

Caster sugar for sprinkling

1 beaten egg for glazing
Equipment:
Food processor

Muffin tin

8cm fluted pastry cutter

Fork

Wire rack
Step-by-Step Guide
Pastry Making:

In a food processor, pulse butter and icing sugar till breadcrumb-like texture. Add one egg and pulse till mixed. Add flour and pulse until a ball forms.

Chill Time:

Shape into a flat circle, wrap in clingfilm, chill for 30 minutes.

Roll & Cut:

Roll on a floured surface to roughly €1 coin thickness. Cut 8cm circles and place in muffin tin. Fork-prick bases.

Mix It Up:

Combine mincemeat and chocolate. Fill each case with a tablespoon of this divine mix.

Top It Off:

Cut pastry shapes for the top. Use beaten egg to seal edges. Chill for 10 mins.

Oven Time:

Preheat to gas 6, 200°C/fan 180°C. Brush pies with beaten egg, sprinkle caster sugar, and bake for 12-15 mins.
Quick FAQs
How long can these be stored?
Up to 5 days in an airtight container.
Can I use milk chocolate?
Yes, but it'll be sweeter.
What's the best drink pairing?
A glass of mulled wine or brandy.
🥧 Pro Tip: Love a crispy edge? Bake a little longer, but keep an eye on it!
The Art of Chocolate Gifting
Lily O'Brien's Christmas Gifts
As well as being delicious and indulgent, chocolate can also be versatile. It transcends our differences and opinions; who doesn't love chocolate? That tricky person at work who you've got in secret santa? Chocolate. The niece who has everything already? Chocolate. Even that miserable neighbour you tend to avoid couldn't say no to a beautiful, mouth-watering chocolate gift. 
Lily O'Brien's Christmas Chocolate Gifts are the perfect way to say Merry Christmas to all the people in your life. From personalised chocolate boxes to hampers featuring 10 different products, there's something for everyone to indulge in and appreciate this festive season.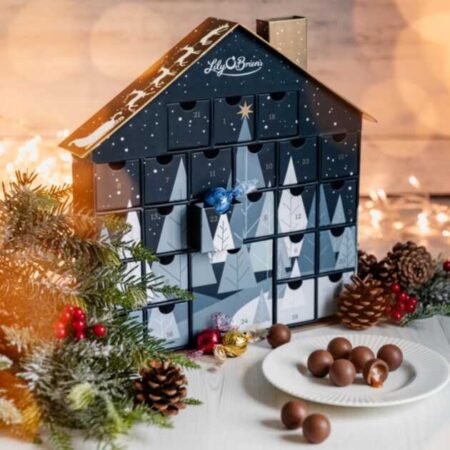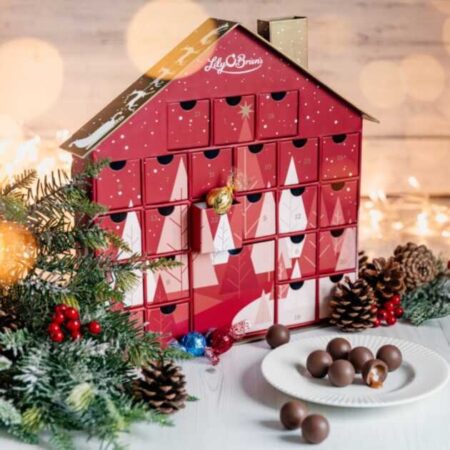 Stocking Fillers: A Sweet Surprise
Chocolate is also wonderful for Christmas stocking fillers. You don't have to break the bank to finish off the stockings when you can fill them with delicious treats. From truffles to share bags (let's be honest, no one actually shares but the thought is there) chocolate is the ideal pairing gift which makes it the perfect stocking filler. Plus, what is more indulgent than chocolate for breakfast?!
Wrap Up & Key Takeaways
So, whether home baking is your calling or you need something foolproof for that hard-to-buy-for person in your life, chocolate is key. Christmas and chocolate have gone together for 100's of years so who are we to argue with its place in our modern day festivities?
From decadent spins on traditional classics to gifts that light up faces like the trees they are sat beneath, Lily O'Briens versatile selection of chocolate can surely only elevate the festive mood. 
If you're not quite feeling prepared yet, their gift and recipe ideas will certainly give you some encouragement and motivation to get you into the Christmas spirit and maybe even a cause to treat yourself, it is Christmas after all!