8 March 2016
By Bryan T. Smyth
bryan@TheCork.ie
Best known for his incredible dance, choreography and modern art, The Lord of the Dance Michael Flatley has released an epic and poignant musical tribute to the heroes of 1916.
Written and composed by Irish songwriter, Brian Flanagan, 'The Rising' is performed by Michael Flatley who narrates a hauntingly beautiful depiction of the heroes of the 1916 Easter Rising. Musician Finbar Furey accompanies on Uileann pipes and whistles, with Micheal on vocals along with the songwriter Brian Flanagan. Michael himself also plays a traditional 140 year old wooden flute during the chorus, while his dance steps create a percussion crescendo for the song's finale.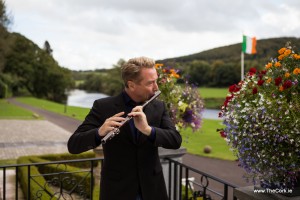 "The story of the Easter Rising, and the bravery of those that lost their lives fighting for a free Irish republic, has always moved me deeply and inspired me. I really wanted to mark this special centenary for Ireland, and I'm especially proud of the poignant and beautiful tribute that we, as artists together, have created," said Michael Flatley from the USA where he is currently on World Tour with Lord of the Dance: Dangerous Games.
Songwriter Brian Flanagan, who has worked with Nadine Coyle, Nathan Carter, Brian Kennedy and Eric Bibb among others, penned the song for Michael Flatley while working with him in Dublin recently. His vocals are also recorded on the "The Rising" which is now available to download online.
"This song brings together many Irish art forms, including recitation, traditional music, Irish dance and the lament, to honour the extraordinary sacrifice of the heroes of the 1916 Rising in Ireland and acknowledges that we are only where we are today because of the events of April 1916," explains Brian Flanagan, songwriter and artist.
Flatley's 'The Rising' will also be used on the soundtrack to the star-studded movie "The Rising" starring Jonathan Rhys Meyers, Fiona Shaw, Micheal Neeson, Brendan Coyle, Colin Morgan and David O'Hara which is due to be released next year.
'The Rising' single, produced by Billy Farrell, is now available for download on iTunes, with all proceeds going to various charities including Crumlin Hospital and Michael Flatley's Foundation.
https://itunes.apple.com/us/album/the-rising-single/id1083693882