19 March 2016
By Tom Collins
tom@TheCork.ie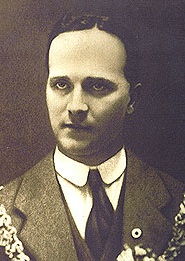 The annual Tomás MacCurtain commemoration will take place this Sunday (March 21st) 1pm at the Republican Plot in St. Finbarr's cemetery. The main speaker for the commemoration will be Sinn Féin's newly elected TD, Donnchadh O'Laoghaire. Ard Mhéara Chorcaí Cllr Chris O'Leary will lay a wreath at MacCurtain's grave.
Commenting ahead of the commemoration, Deputy O'Laoghaire said;
"It will be an honour to speak at an event to commemorate our martyred Ard Mhéara Tomás MacCurtain. MacCurtáin and his comrade Terence MacSwiney are icons of our country's struggle for independence. Their names are revered, not only in their home city of Cork but right across the island.
"Tomás MacCurtáin was a committed republican, IRA volunteer and mayor. He was a person of great conviction who truly believed in the tenants of the 1916 proclamation.
"MacCurtáin was an unwavering leader of the fight for freedom in Cork. It is only right that we keep his memory alive. It is fitting that the current Ard Mhéara Chorcaí, Cllr Chris O'Leary, will lay a wreath at MacCurtain's graveside in this historic year of commemorations.
"The commemoration is open to the public and we would encourage everyone to come along and join us in honouring the life of Tomás MacCurtain and his contribution to Ireland's fight for liberty."