1 April 2016
By Bryan Smyth
bryan@TheCork.ie
Fianna Fáil Finance spokesperson Michael McGrath (Cork South Central/Carrigaline) has called on the acting Minister for Finance to proceed with the publication of Ireland's draft Stability Programme Update. Ireland is obliged to submit this document to the European Commission by the end of April but the Minister for Finance recently indicated that the deadline may be missed.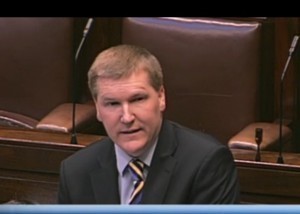 The Stability Programme update is Ireland's national medium-term fiscal plan and includes an update of the economic and fiscal outlook. It outlines the projected performance of the economy based on certain assumptions as well as setting out an assessment of the risks to those forecasts.
Deputy McGrath commented "The most recent projection of the available fiscal space over the next five years was made at the time of the last budget in October 2015. A lot has happened both politically and economically in the meantime.
"Reports today indicate that a number of government departments face spending "time bombs" in relation to demographic pressures and other spending demands.
"It is important that new fiscal space projections are now made which will take account of updated assumptions, as well as changes to Ireland's medium term budgetary objective.
"Last year the draft Stability Programme Update was published on the 1st of April. In my view there is no reason why the acting Minister for Finance cannot now produce the draft update for 2016. This would provide vital information which would help inform discussions on government formation without tying the hands of a new government in relation to policy initiatives it wished to take," concluded Deputy McGrath.