12 April 2016
By Tom Collins
tom@TheCork.ie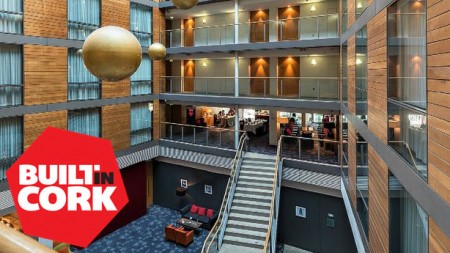 Clarion Hotel Cork Wednesday 13th from 7:30pm
BUILTINCORK is back! Join the event at the Clarion Hotel where they'll be discussing Cork – Strengths, Weaknesses, Opportunities and Threats – how is Cork doing as a location to locate and grow high-potential technology startups? What are the pros & cons for any business choosing to remain in Cork and try to build an international business from here. We'll listen to stories about those who've stayed, those who've left and also how we're comparing to places like Dublin, Galway, Limerick, London, Berlin, New York and the famed promised land of Silicon Valley.
They're lining up a panel who've seen it all to help curate the discussion.
So far this includes;
Barry O'Sullivan, CEO Altocloud, Dragon's Den
Niamh Bushell, Dublin Startup Commissioner
Gene Murphy, Entrepreneur in Residence at Bank of Ireland, Startup Weekend
Joe Lennon, CEO Subwoofr
They'll also be discussing what's coming up this year for BUILTINCORK, hopefully with a few awesome announcements.
To register just head over to www.builtincork.com
BUILTINCORK is an entirely free, network, community and resource for first-time technology entrepreneurs and interested parties in the Cork region. Leveraging on the incredible success of some of the cities successful software and hardware entrepreneurs, it's an opportunity for knowledge to transfer from those who've been there to those just starting out – an opportunity for all to share what worked and what didn't so we can all learn from each other's mistakes, not just our own.