16 June 2016
By Tom Collins
tom@TheCork.ie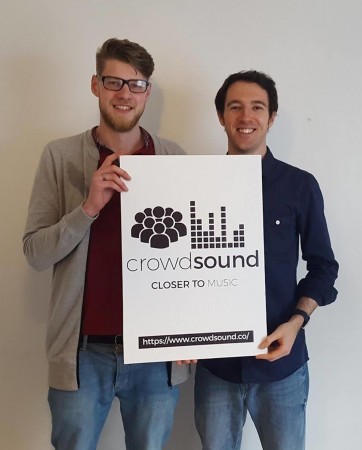 CrowdSound.co, a crowdfunding start-up, has recently assisted Cork singer-songwriter, Colm Fitzpatrick, in raising money for the recording of his 5 song EP 'If', with 30% more than the original target raised in just a few weeks.
Colm's was the first project launched by website, CrowdSound.co, and reached its set target six days before the finishing date on May 25th. 'If' will be recorded over the summer and is highly anticipated by the almost 150 fans who pledged donations.
Crowdsound.co allows musicians to set up a profile about themselves with links to their music, a biography, and the amount of money they need to raise to have a successful project. The musician will then create rewards which are earned by fans who contribute to the project.
Committed to providing quality services, CrowdSound.co has partnered with some of Ireland's most renowned recording studios and producers to ensure that it continues to work with musicians even after they have raised the finance they need.
The idea for CrowdSound.co originated in December 2014 when its founder Joel Carey learned about 30 Seconds to Mars, one of America's most celebrated rock groups and the struggle they had with their record label. The band was in debt despite a hugely successful first album and had been told they could not change their style of music. The band was attempting to leave the label while producing their second album, This is War.
Speaking about the idea behind the business, Joel said "In the last decade the music industry has undergone one of the largest transitions since the invention of the jukebox. Streaming of music, illegal downloading, and the decline of the record labels has left unsigned musicians struggling to raise money for the creation and completion of albums and musical projects. Crowdsound offers a solution to this problem by connecting the musician to the musical community at large, ensuring that they retain their financial and creative freedom."
Joel went on to speak about how this inspired him to start his own business as a recent graduate: "My passion for music and business was always going to bring me down an entrepreneurship path. The 30 Seconds to Mars story inspired me to go and do something about the lack of respect and freedom given to musicians."
Crowdsound.co is currently one of eight companies participating in the IGNITE Graduate Business Innovation Programme. This nine month business incubation programme at UCC is aimed at nurturing, developing and strengthening entrepreneurial potential amongst recent graduates from any discipline, from any third level institution with a viable business idea. For start-ups that undertake the Programme, IGNITE support is equivalent to a €25K investment, and founders do not give up any equity in their business.
CrowdSound.co will be launching more projects in the next number of months. You can find out more information at www.CrowdSound.co or by emailing info@CrowdSound.co.