28 September 2016
By Bryan T. Smyth
bryan@TheCork.ie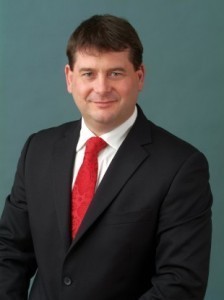 In Warsaw today Ireland's Minister for European Affairs, EU Digital Single Market and Data Protection, Dara Murphy T.D. delivered a public lecture on "The European Union in challenging times: the Irish Perspective" at the Polish Institute for International Affairs(PISM). In his address, the Minister spoke of the warm relations between the Polish and Irish people, and set out the Irish perspective on issues of common importance to both Ireland and Poland as partners in the EU, notably on Brexit and the wider EU agenda.
On the strength of Polish-Irish relations, the Minister said: "We are proud that Poland became a member of the European Union in Dublin, on 1 May 2004. Since then, an estimated 300,000 Polish people have lived, worked and studied in Ireland. Today, some 150,000 Poles make Ireland their home, our largest foreign community. Polish is now our most spoken foreign language – you can hear it in the streets of our cities and towns. The partnership between Ireland and Poland has been strengthened by the Polish community in Ireland. They are part of our daily life, part of our shared future – and they are very welcome."
Concerning Brexit, the Minister said: "We must not underestimate the scale and complexity of the challenge ahead of us. Ireland's relationship with the UK is composed of many different strands, all of which will be affected by the UK's decision to leave the European Union."
Regarding the positive Irish and Polish experiences of free movement of people, the Minister stated: "We have both benefited hugely from the free movement of people – even if in our case it dates back to well before EU membership. Looking to the future, we fully share the general consensus that freedom of movement of people is intrinsically connected to the other freedoms which form the basis of the Single Market and cannot be bargained away in negotiations."
During the visit to Warsaw the Minister Murphy met with his Polish counterpart, Secretary of State for European Affairs Mr Konrad Szymanski, and visited 3D4Medical, an Irish medical software company with offices in the city. The visit will conclude with a Flavours of Ireland event this evening, an annual celebration of Irish food and drink organised by the Irish Polish Chamber of Commerce, and heavily supported by Bord Bia, which has opened an office at the Embassy in Warsaw to serve the Polish and Central European market.