5 March 2017
By Bryan T. Smyth
bryan@TheCork.ie
Bob Seward, founder of the Cork Academy of Music, has been named February's 'Cork Person of the Month' for his ground-breaking work in music education on the northside of Cork city.
Mr. Seward set up the voluntary, not-for-profit school of music in 1994 on Cork's northside to provide an education in music literacy and instrument skills for people living in a traditionally high unemployment area of the city.
"Our original aim was to use music as a tool for social inclusion, so we located the Cork Academy of Music in an area of the city with relatively low educational achievement and high unemployment levels," explained Bob Seward. "Since then, the Academy has provided a music education for many thousands of people and created a pathway to both work and, indeed, further education. We have also fostered important relationships with individuals and groups in the local community, focusing on combating disadvantage and helping to promote social inclusion," he concluded.
A well known musician in his own right, Bob Seward has received many awards over the years marking his successful career in music, including the Lord Mayor's Award for Community Development. He received an honorary M.Mus from UCC in recognition of his work, and an 'Inspiration Life Award' for his voluntary work from President Mary McAleese. Fellow Cork musician Joe Mac nominated Bob for this new award.
Working in a voluntary capacity at the Cork Academy of Music since its foundation 23 years ago, Bob Seward has carefully steered and guided the work of the Academy since its inception. A retired army captain, he is the proud recipient of two United Nations peace medals – in recognition of his service in the Congo in 1960 and in Cyprus in 1963.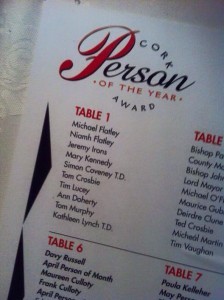 Bob Seward's name will now go forward with the other monthly award winners who will be chosen during the year for possible selection as overall 'Cork Person of the Year'. The winner will be announced at a Gala Awards Lunch due to take place in January 2018.