28 April 2017
By Bryan T. Smyth
bryan@TheCork.ie
The Heineken Kinsale 7s takes place in Kinsale over the May Bank Holiday weekend, 29th & 30th April and is always a popular festival for players and supporters with over 8,000 visitors expected in the seaside town.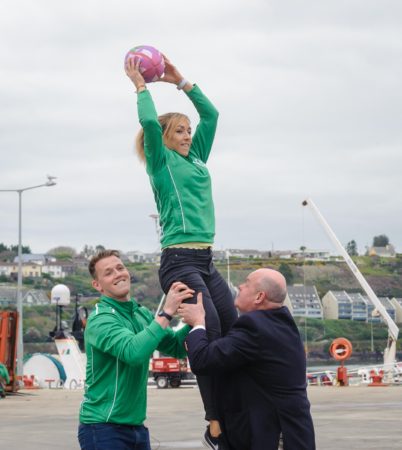 Now in its 29th year, the Heineken Kinsale 7s is Ireland's largest rugby 7s tournament and builds on its success each year. It promises to be an action-packed weekend of competitive men and women's running rugby as over 80 teams compete for an attractive prize fund, trophies and medals.
Entries are strong this year with a high calibre of rugby players across all competitions. Full information on Saturday and Sunday match schedule is available on www.kinsale7s.com
There has been a huge interest in the Men's Elite Competition this year with 10 teams entered, the majority from overseas. They include defending Champions Wooden Spoon Marauders as well as CLIC Sargent Godfathers, Scimitar Exiles and Sherrards Assassins from England, the Camarthen Warriors and Olorun Ponty Butchers from Wales, Projecx Waterboys from Scotland, the Rah Rah Roosters from The Netherlands and the Wild Geese and UCD from Ireland.
Defending Men's Open Champions, The Lightning Bolts return to Kinsale hoping to #driveforfive. However, the D.I.S.C.O Balls, Dublin Dogos, King Prawns, Lettuce Entertain You and the host club Kinsale RFC are some of the teams hoping to claim the title this year.
The Men's Social Competition mixes quality 7s rugby with some fantastic fancy dress and great craic off the pitch too. Rugby Club 'Sigulda' from Latvia and the Fat Wolverines and Ruck Inspectors from Scotland and Ealing Exiles from England are some of the overseas clubs participating in the 2017 Men's Social Competition.
Also registered in the Men's Social Competition are The Fire Breathing Rubber Duckies, Silly Old Wasps, Dutch Rudders and Teeling Pandas.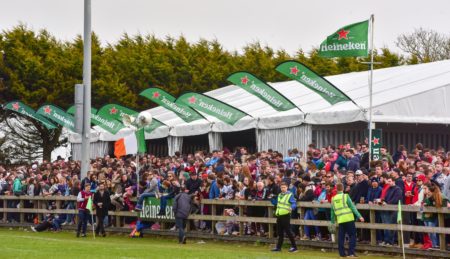 In the Women's Elite/Open competition, the Women Spoon Women's team from the UK return to Kinsale as we welcome two Emirates Firebirds teams from the United Arab Emirates. Other women's social teams include the Collig Pink Ladies, Flannerys for 1, Team Boom and Youghal Blacks.
Pat Maher, Event and Sponsorship Manager, Heineken Ireland said: "This the 29th event continues to have a significant presence in the minds of so many people who wish to enjoy a sporting and special weekend in Kinsale. The quality and competitiveness of rugby played moves upwards in every research each year. We wish everyone involved in organising and participating continued success and enjoyment. We expect it will deliver positive opportunities for our business partners in Kinsale and surrounding areas".
Terry Jackson, Managing Director, Kukri Ireland was present at the launch, as Kukri is the official event wear for the Kinsale 7s. There is always excitement with the limited edition match balls and merchandise available during the 7s.
Tomás O'Brien, Tournament Director, thanked all sponsors, associate partners, club members and volunteers for their continued involvement and support. "The Heineken Kinsale 7s generates a huge boost to Kinsale Rugby Club and the local economy and is staffed entirely by volunteers. I wish to thank Heineken, Kukri Ireland and all our partners and volunteers for their continued support. We welcome Craig Gilroy to Kinsale and we look forward to welcoming all teams and visitors to Kinsale this year," said Tomás O'Brien.
Additional partners include Hayes Caravan Services and Charity partners this year include the Wooden Spoon Children's Charity and Jayden's Charity in Kinsale.
For further information, team registration and updates visit www.kinsale7s.com or follow us on Facebook, Twitter, Instagram and Snapchat #Kinsale7s.