3 May 2017
By Bryan T. Smyth
bryan@TheCork.ie
A recent innovative 'live Crowd Funding Event' held by the Cork Foundation, raised funds for four Cork Social Enterprises.
The event consisted of a mix of potential donors and Cork business leaders, who were presented with a pitch by each of the four participating social enterprises, after which many of the invited guests pledged their donations to the organisation they felt most connected with.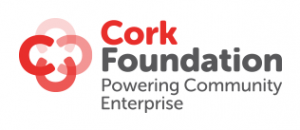 The Cork Foundation which was set up to connect Cork people globally and locally to make a difference for Cork by supporting Cork Social Enterprises issued a call out in advance of the innovative event to social enterprises and received a remarkable fifty applications. A selection criterion for all social enterprises for this fundraising activity was that they had to be supporting sustainable jobs and making life better for people living in Cork – something that is vital for any Social Enterprise that the Cork Foundation supports. After careful consideration four organisations were chosen;
Helium Arts
The Field of Dreams
First Light
Shine Ireland
Helium Arts is a national children's arts and health organisation, which endeavours to bring art, creativity and play to children and teenagers in hospitals and healthcare settings across Ireland. A total of €1,100 was donated by donors on the night.
The largest donation of €3,931 was contributed to the Field of Dreams. The Field of Dreams is an offshoot of Down Syndrome Cork, which supports approximately 360 families across Cork Region. The Field of Dreams strives to provide a safe environment where the nurturing of each participant's personal growth and independent living.
First Light, offers support and information, and promotes research into the sudden, unexpected, often unexplained deaths of infants and young children. The generous donation of €1,387.50 obtained by First Light will contribute to helping those who are suffering from bereavement, through offering support from appropriately trained professionals.
The final Social Enterprise to benefit from this innovative approach to funding was Shine, an organisation founded in 2011 and since then has worked with hundreds of families of autistic children across Cork city and county to secure assessments, therapies, services and appropriate education for their children. This worthy charity received €1,804 which will aid the funding of the provision of these services.