12 May 2017
By Elaine Murphy
elaine@TheCork.ie

First year chemical engineering students from Cork Institute of Technology (CIT), this week visited GSK Cork's manufacturing facility at Currabinny to help further their understanding of chemical engineering and its importance to pharmaceutical manufacturers and ultimately, to patients.
The first year students from CIT were able to engage with GSK's engineers at the Cork facility and gain better insights into the future career prospects, learn about the variety of engineering roles available and discover the international career opportunities open to engineers with companies like GSK Cork.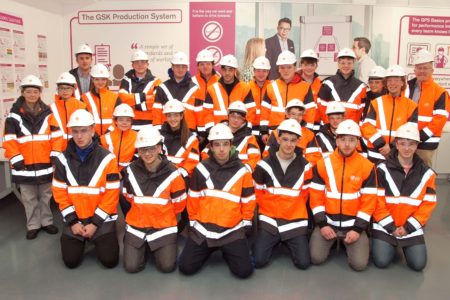 Sandra Lenihan, Lecturer in Chemical and Biopharmaceutical Engineering at CIT said: "This was the first tour undertaken by the chemical engineering class to a manufacturing site. The visit to GSK has given students great focus and drive for the next three years to complete their degrees and join a company like GSK. It was hugely beneficial to the students to interact with engineers at GSK (most of them CIT Chemical Engineer Graduates) and learn about the variety of roles and well as the international career path possibilities with a global organisation such as GSK. The students were also impressed that the patient at the end of the supply change was pivotal in every decision, as well as the importance placed on health and safety."
GSK employs 1,800 people across four locations in Ireland – Cork, Dungarvan, Sligo and Dublin – and is committed to helping people around the world to do more, feel better and live longer.
The GSK Cork facility produces the active ingredients for a range of medicines for diseases such as childhood cancer, depression, diabetes, HIV, Parkinson's disease and arthritis.