15 May 2017
By Elaine Murphy
elaine@TheCork.ie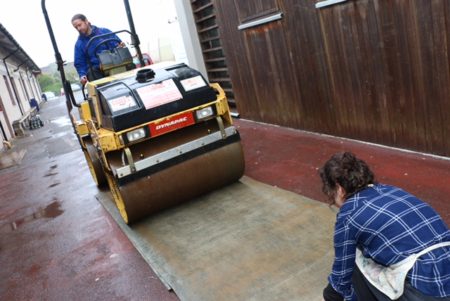 ​
Today an industrial road roller arrived at the gates of Coláiste Choilm, Ballincollig, to do some serious, large scale Printmaking!
Mary O'Mahony, Transition Year Art teacher, has never taken the easy road; she endeavours to set challenges for her student cohort; to have them delve into current art practices and find their own opinion as an individual and as artists. She thus enlisted the help of Fiona Kelly, a practicing contemporary Artist, who partook in Ireland's inaugural Road Roller Printmaking event run by Cork Printmakers in 2010 to assist and facilitate her great vision.
The Art Project, which started in the classrooms back in January, was initiated to have the student voices heard in the guise of a permanent, large scale Artwork. Relief Printmaking was chosen as it is historically a populist medium whose bold graphic qualities cannot be disregarded. The participating students, both from Coláiste Choilm agus Gaelcholáiste Choilm agreed to combine their talents and work collaboratively on two large pieces, one representing each school celebrating the value of diversity and opening a dialogue on the benefits which that diversity brings to our schools and our society at large.
The Project culminated today with an outdoor printmaking event for the students and the installation of the finished print works will now be mounted in a symbolic site chosen by the young artists themselves – within the connecting corridors which link both schools. The dreadful weather did not put this determined group of youngsters off one little bit and we think that the end results speak for themselves.
Specialist equipment for the production of this project was been kindly donated by the Cork Printmakers.