15 May 2017
By Elaine Murphy
elaine@TheCork.ie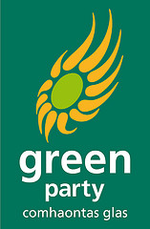 The Green Party and Cork Climate Action today met with the Lord Mayor of Cork, Des Cahill, to discuss Cork's plans for Earth Hour 2018. The group also discussed steps that the Lord Mayor's office can take to show leadership in climate action.
Earth Hour is an annual event where landmarks throughout the world go dark for one hour to highlight climate change. This year, Cork took part in Earth Hour for the first time, turning City Hall dark for one hour on 25 March, after approaches from the Green Party's representative in the Cork City South Central ward, Justin Fleming.
Meeting with Mr Fleming today, the Lord Mayor agreed that next year his office would lead a coalition of landmarks across the city taking part in Earth Hour. The Lord Mayor said that in 2018 a ceremonial switch, similar to the one used to turn on the Christmas lights, would be used to turn off the lights on City Hall for Earth Hour.
Speaking after today's meeting, Mr Fleming welcomed this commitment but sounded caution on the depth of the challenge ahead:
"This symbolism is important but it's even more important to follow it up with action. That's why we met the Lord Mayor today, to ask him to follow up on the first Earth Hour in Cork with genuine climate action, however large or small."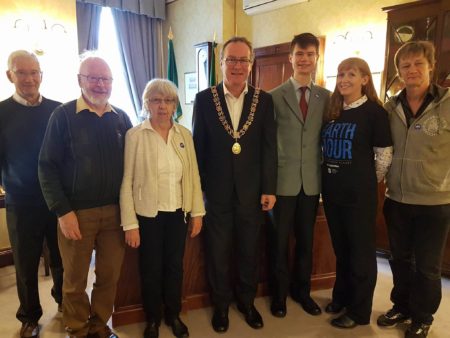 As part of this, the Green Party asked that the Lord Mayor switch to using an electric car. However, this was turned down by the Lord Mayor, who said it would be impractical because of the kind of journeys required by his duties.
Mr Fleming said "We suggested a hybrid electric car as a compromise," Mr Fleming explained, "but he wasn't inspired by that suggestion either. This is sad news during the centenary year for Ford in Cork. It would be the perfect time for a Lord Mayor to choose an electric car, especially following Fianna Fáil leader, Micheál Martin's, public support for electric cars at the recent 'Divestment and Beyond Forum' in the Imperial Hotel."
The Lord Mayor's current vehicle is diesel (registration 171 C 1 – is a  171C1 Ford Mondeo Vignale 2.0 – 1997cc – TD 180PS 6 speed 4 door)