6 July 2017
By Tom Collins
tom@TheCork.ie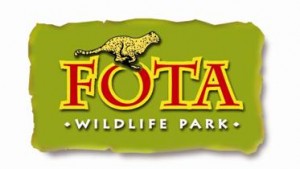 The latest arrivals at Fota Wildlife Park in Co Cork, four new Cheetah cubs, were officially introduced to the public today. The Cubs were born on May 29th and the litter of four is made up of two males and two females. This is the second birth this year for mother Nimpy, originally from France, she also gave birth to a male Okkasie at the start of the year.
Speaking earlier today, Director of Fota Wildlife Park, Sean McKeown said, "All of us here at the wildlife park are thrilled with the birth of the four cheetah cubs, especially following on from the birth of the critically endangered Sumatran tiger cub born a few weeks earlier. Cheetah numbers are also declining and the population of Northern Cheetahs has plunged by 90% over the last 100 years, to just an estimated 250 left in the wild".
The now five-week-old cheetahs have been making great progress with mum Nimpy under the watch of lead warden Kelly Lambe and the team who look after the carnivore section at the park. "We have been keeping a close eye on these cubs, as much as we can without interfering over the last few weeks and they have all fed from mum, who is doing a great job, without any issues." said Ms Lambe. The cheetah cubs can now be seen with mum Nimpy by visitors to Fota Wildlife Park at their enclosure close to the Giraffe house at the 100 acre wildlife park.
Fota Wildlife Park is highly involved in the global Cheetah Conservation Programme and its Director Sean McKeown is the EEP (European Endangered Species Programme) Coordinator for the Northern Cheetah. In this role Mr McKeown has many tasks to fulfil, such as collecting information on the status of all the Northern Cheetahs kept in EAZA zoos and parks, producing a studbook, carrying out demographical and genetic analyses, and producing a plan for the future management of the species.
Cheetahs that have been bred in Fota Wildlife Park have been sent to many breeding centres around the world over the last 30 years as part of the endangered species programme. The involvement in such programmes helps ensure that the world's fastest animal does not become extinct with so few Northern Cheetahs existing in the wild, the birth of these cubs is very important for their population.
Facts & Figures
• The world's fastest land animal, the cheetah, is the most unique and specialized member of the cat family and can reach speeds of 70 mph. Unlike other cats, the cheetah has a leaner body, longer legs, and has been referred to as the greyhound of the cats. It is not an aggressive animal, and with its weak jaws and small teeth, it cannot fight larger predators to protect its kill or young.
• Cheetahs are endangered because of loss of habitat and prey to commercial farming and development, livestock killing and poaching. It has been estimated that in 1900, more than 100,000 cheetahs were found in at least 44 countries throughout Africa and Asia. Today the species is extinct from +20 countries and an estimated 7,100 remain in the wild.
• The high mortality rate of cubs in the wild (up to 90%) is a key reason why the species is now listed as Vulnerable, with the situation in Asia now considered to be Critical. Breeding programmes have been established to try and reverse this trend but other threats include disease, habitat loss and conflict with man if near livestock areas.
• The Northern cheetah is endangered in its native northwest Africa – largely because they have increasingly found themselves coming into conflict with larger predators and also farmers, as both their habitat and access to prey has reduced
• Fota Wildlife Park first began breeding cheetahs in 1984, and is one of the world's leading breeders of cheetahs. Fota Wildlife's Park is highly committed to the conservation of animals worldwide, and Fota-born cheetahs are sent to many breeding centres worldwide as part of international conservation programmes.
• Fota Wildlife Park is also home to Ireland's first and only cheetah run. This is a wire suspended 10 feet off the ground with food that goes at approximately 65kph. The cheetah run is used for enrichment and exercise
• Fota's Cheetahs are fed chicken, rabbit or horsemeat. Rabbit tends to be their favourite, with richer horsemeat given out once a week.