13 July 2017
By Tom Collins
tom@TheCork.ie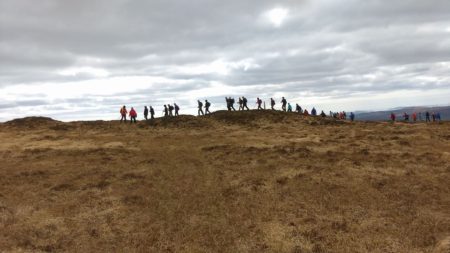 Ireland's first fully-guided pilgrim journey has been launched today. The guided journey along Ireland's passported pilgrim paths will take place during Heritage Week (19 – 26 August).
The five ancient routes included on the Irish Pilgrim Passport are: Tochar Phadraig, Co Mayo; St Kevin's Way, Co Wicklow; Cosán na Naomh, Co Kerry; St Finbarr's Pilgrim Path, Co Cork; and, Cnoc na dTobar, Co Kerry. Walkers collect a pilgrim stamp at the end of each walk before being awarded the full passport when they arrive at Ballintubber Abbey after completing Tochar Phadraig in Mayo.
St Finbarr's Pilgrim Path, Co Cork leads in fine style over the Sheehy Mountains and valleys  to Gougane Barra.  Denoted by the brown Slí Bharra  plates, the path follows the route of the Sheep's Head Way and then Beara Breiffne Way from north of Kealkil – it requires 2 days to complete.
Knowledgeable local guides will lead each walk, allow time for personal contemplation, outline the story of the route and explain how medieval penitents coped with their arduous journeys.
According to David Ross owner of the Top of the Rock Pod Park, which is located at the start point for St Finbarr's Path, "We are blessed to have such a wonderfully scenic and historic path here in West Cork. People are coming from across Ireland for our walk on August 22, but the event, which runs concurrently with a unique peat art exhibition, is proving hugely for local people as well".
Speaking today, Chairman of Pilgrim Paths Ireland, John G O'Dwyer said; "The medieval pilgrimage was originally a journey combining prayer and sacrifice – with an element of physical discomfort. Recently, there has been a renewed interest in following the footsteps of these pilgrims past and over the last number of years Ireland's penitential trails have echoed to ever increasing footfall. This pilgrim journey is not just for those who enjoy exploring Ireland's ancient tracks, but also the growing numbers seeking to escape the daily grind of life and take time out to reflect and meditate a little while enjoying the outdoors".
Speaking about the Heritage Week event, Mr O'Dwyer said: "This is an ideal opportunity to complete some of Ireland's most captivating paths with like-minded people. Participants are free to complete all five paths over the week or undertake a lesser number".
Advance booking is essential and must be made individually to each pilgrim path. More information on how to book can be found on www.pilgrimpath.ie