17 July 2017
By Bryan T. Smyth
bryan@TheCork.ie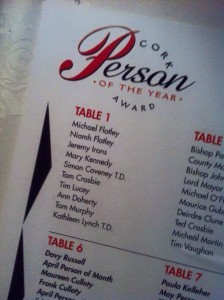 Tony O'Connell, Chairman of the Cork City Sports International Athletics Committee, has been named July 'Cork Person of the Month'.
Tony recently celebrated his 70th birthday and has attended every Cork City Sports event for the past 65 years. As a young boy, he sold official programmes for the event and competed in cycling events on the grass track at the Mardyke in the late 1960's.
In his role as Chairman of Cork City Sports, Tony leads a dedicated 20 member committee, including Frank Walley, President; Terry O'Rourke, Secretary; Joe Hartnett, Meet Director; Donal Murnane, PRO; and Liam O'Brien, Technical Director. On July 18th, Tony and his team organised the hugely successful 66th annual Cork City Sports International Meet at the Cork Institute of Technology (CIT). Also present on the day was City Sports Finance Director John Flynn and Liason Team of Mark and Maria Walk.
For the past eight years, Tony's role as Chairman of Cork City Sports and Chairman of the Finance Committee, has seen the event go from strength to strength. He also served as PRO for many years and Vice-Chairman of the event under the leadership of the late Dick Hodgins, from whom he gained a wealth of knowledge and experience.
Fellow Corkman and Olympic Race Walker, Rob Heffernan said, "what Cork City Sports does for athletics is incredible. I would like to congratulate Tony O'Connell for his expertise and hard work over so many decades. The fact that so many elite athletes from around the world continue to support this event in Cork year after year, is testament to Tony's leadership."
"Tony O'Connell leads a dedicated committee and some 150 volunteers to run this iconic international event," said nominator, Ursula Ramsell. "This annual event greatly raises the sporting profile of Cork "
Cork athletes, Sonia O'Sullivan and Derval O'Rourke both praised Tony O'Connell for his critically important contribution to athletics and field sports and congratulated him on his 'Cork Person of the Month' award.
In addition to a passion for athletics, Tony established one of Munster's leading professional photography businesses in 1972. Since that time he has completed assignments all over the country, visually recording his love of the Irish landscape, which is evident from the stunning collection of Irish photographs captured throughout his illustrious photographic career.
As winner of the July monthly award, Tony O'Connell's name will go forward, with the other monthly winners, for possible selection as 'Cork Person of the Year 2017'. The overall winner will be unveiled at a Gala Awards Lunch in mid-January 2018.