18 October 2017
By Tom Collins
tom@TheCork.ie
Cork South West Fine Gael T.D. and Minister of State at the Department of Health, Jim Daly, visited Bandon Community Hospital last Friday, – October 13th – to see first hand the new facilities at the hospital.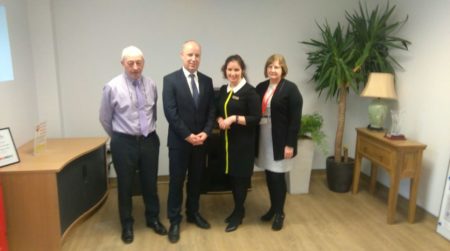 Minister Daly met with Hospital Management and Senior Managers from the HSE during the visit to discuss the new facilities available and how these facilities will benefit the community. Speaking following the visit Minster Daly said, 'The new facilities are an incredible testament to all involved as they are first class and rival any facilities for older people anywhere in the country.'
Addressing concerns regarding a date for the opening of the newly refurbished Hospital, Minister Daly said, 'I am confident that negotiations between management and staff representatives will conclude this week paving the way for an orderly transition from the old facilities to the new €3.4 million euro facilities.' The Minister went on to state he is confident that respite facilities will recommence at Bandon Community Hospital within 4 to 6 weeks.
Following his visit to Bandon Community Hospital, Minister Daly met with Friends of Bandon Hospital to update them on developments and to acknowledge their contribution to the development of a new day room at the Community Hospital, thanking the Friends of Bandon Hospital Group, Minister Daly said, 'My thanks, and indeed the thanks of the people in the wider Bandon area go out to the Friends of Bandon Hospital Group for their huge contribution to building a brand new state of the art day room at the Hospital. My thanks also go out to staff, management, residents and families along with the builders Murnane O'Shea's, who were exceptional in their approach to this project, through accommodating all parties from start to finish.'