24 October 2017
By Mary Bermingham
mary@TheCork.ie

Cork has one national grade Horse Racing Track – 'Cork Racecourse Mallow'
Those of us who are not interested in Horse Racing usually only hear about Cork Racecourse Mallow when it's flooded, or some other disaster takes place. Two weeks ago there was a fire in a pub near to it, which made headlines, but we really all should pay more attention to this wonderful facility.
It was previously known as just 'Mallow Racecourse', and was more recently rebranded as "Cork Racecourse Mallow" It is a circular flat right-handed track 10 furlongs in the inner circuit and 12 furlongs in the outer circuit. It holds flat racing and national hunt events all year round.
The course hosts around 20 race meetings January right thru to December.
The major meetings held here are the Noblesse Stakes with is a Group Three race for fillies and mares which is held in June. There's also the Give Thanks Stakes also for fillies and mares held in August, and the Cork International each November.
Top trainers associated with the course are David Wachman and Dermot Weld. Top jockeys who feature include Wayne Lordan, and champion flat jockey Pat Smullen.
Layout
The National Hunt track is a flat right-handed oval track approximately 1 mile 4 furlongs long. The chase track runs around the outside and with the hurdle track running inside.
There are 8 fences on the chase track circuit, 6 regulations, and two ditches. This is a flat testing track with few places to hide.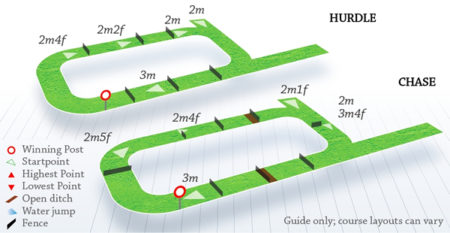 The Flat track is made up of two parts. The round track is a flat right handed oval approximately 1 mile 4 furlongs around with more than 3 furlongs in the home straight.
There is also a flat 6 furlong straight sprint track finishing closest to the stands.
History
Back in March 1983 the racecourse made its way into international headlines when it was used by a private jet for an emergency landing. The owners/insurers of the plane later paid for a tarmac surface to allow the repaired plan take off several weeks later.
The track is located on Killarney Road, Mallow, Co Cork.
Upcoming Cork Racing Fixtures
Sun, 5th November, 2017
Sun, 19th November, 2017
Sun, 10th December, 2017
Sat, 6th January, 2018
Thu, 22nd March, 2018
Sat, 31st March, 2018
Sun, 1st April, 2018
Mon, 2nd April, 2018
Sun, 15th April, 2018
Fri, 4th May, 2018 (E)
Sat, 5th May, 2018
Fri, 18th May, 2018 (E)
Sun, 17th June, 2018
Fri, 13th July, 2018 (E)
Mon, 6th August, 2018
Sat, 11th August, 2018
Wed, 3rd October, 2018
Wed, 10th October, 2018
Sun, 21st October, 2018
Sun, 4th November, 2018
Sun, 18th November, 2018
Sun, 9th December, 2018
Other meetings in the UK and Ireland
No mention of racing would be complete with a reference to the UK. The UK and Ireland equestrian community have strong links. Check out these Cheltenham Festival Tips. The 2018 Cheltenham Festival will last for four exciting days from 13th to 16th March 2018.  The Cheltenham Gold Cup itself will take place on Friday 16th March.