31 January 2018
By Mary Bermingham
mary@TheCork.ie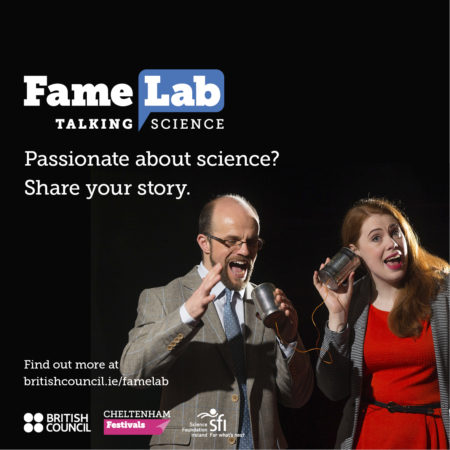 When: Wednesday 31 January 2018, 8pm
Where: Triskel Arts Centre, 8pm
Tickets: Free, booking recommended
Anyone with an interest in science is welcome to come along to this free event.
Held annually in over 30 countries across the globe, FameLab is the world's largest science communication competition. And it's coming to Cork again this year!
The Cork heat at Triskel Arts Centre is being managed in partnership between the British Council and Cork partners UCC,Tyndall National Institute, Newstalk and research centres APC, Connect, Infant, Insight, IPIC and Marei, and forms part of our annual FameLab Ireland competition.
With science becoming increasingly specialised, those working in the field can struggle to explain their projects to colleagues let alone the general public. And explaining what you do can be extraordinarily important. The organisers of FameLab have recognised this and challenge up and coming scientists, engineers and mathematicians to explain a complex idea in a straightforward and engaging way.
In Cork, armed only with their wits and a few props, the top newest voices from the world of science and engineering across the country will deliver short 3-minute pieces on bizarre and pertinent science concepts – expect to hear anything from why men have nipples to how 3D glasses work and is nuclear energy a good or bad thing. Presentations will then be judged according to FameLab's '3 Cs': Content, Clarity and Charisma.
Over 9,000 participants have taken part across the globe so far. Aside from great prizes including an all-expenses paid 2 day communication master class, contestants will have the chance to represent Ireland at the FameLab international finals at the Cheltenham Science Festival with representatives from organisations like NASA and CERN. By entering FameLab, participants will begin a journey with like-minded people, build their networks, expand skillsets essential for developing their career and, most of all, have a fantastic time!
What the participants say…
'For me FameLab was a great experience!' said Deirdre Robertson, Psychologist, Research Officer at ESRI and FameLab Ireland 2017 winner. 'As there are a number of different rounds you will improve as you progress. This is helped by all of the training you receive (free of charge of course) from some of the world's top science communicators. By being involved, your communication and public speaking skills will be honed and these will be of use to you in many fields down the line. And most importantly it is great fun – getting to meet many other people from around the world who share the same passion as you for science communication'.
What the organisers say…
Liz McBain, British Council Ireland, said 'We are delighted to see FameLab coming to Cork again and to witness the competition growing from strength to strength in Ireland. We have some of the most talented STEM professionals but talent isn't enough. In this global economy, they need also to learn to communicate their science to local and international audiences – to investors, to partners, to colleagues and even to the wider public. FameLab provides an ideal platform to do this'.
'FameLab competitions are a great chance for people to find out about quirky science through stories on stage,' says Simon Elliott, Head of Public Engagement at Tyndall, one of FameLab Cork's delivery partners. 'It also helps scientists themselves learn how to connect their research with the public, which can really impact their careers. Here in Cork, with three national winners in the last five years, we've seen plenty of cases of this. For example, while still a student at UCC in 2013, DrFergus McAuliffe won the International FameLab competition and went on to pursue a career in science communication, now appearing regularly on RTÉ. And Niamh Kavanagh, FameLab Ireland 2016 winner, is working alongside other LGBTQ+ scientists to set up House of STEM, a new community-led network to improve LGBTQ+ support, visibility and representation in Irish STEM.'
Watch Deirdre Robertson's winning FameLab 2017 presentation
Cork Delivery Partners:
FameLab® is an initiative of the Cheltenham Science Festival in the UK. The British Council has license to deliver the competition in over 30 countries internationally. NASA has license to deliver the competition in the USA. FameLab International is co-produced by Cheltenham Festivals and the British Council. In 2017-2018, FameLab Ireland is funded by Science Foundation Ireland and is supported by Henkel Ireland Ltd and Cpl Resources Plc. It is delivered in partnership by the British Council Ireland, Newstalk 106-108 FM, NUI Galway, Science Gallery Dublin, University College Cork, Trinity College Dublin, University College Dublin, Tyndall National Institute and the University of Limerick, as well a number of SFI research centres. For more information, please visit: http://www.britishcouncil.ie/famelab
The British Council creates international opportunities for the people of the UK and other countries and builds trust between them worldwide. Our 7000 staff in over 100 countries work with thousands of professionals and policy makers and millions of young people every year through English, arts, education and society programmes. For more information, please visit: http://www.britishcouncil.org/ or http://www.britishcouncil.ie.
Tyndall National Institute is a leading European research centre in integrated ICT hardware and systems. Specialising in both electronics and photonics – materials, devices, circuits and systems – they are globally leading in their core research areas and aim to deliver economic impact through research excellence.