27 February 2018
By Bryan Smyth
bryan@TheCork.ie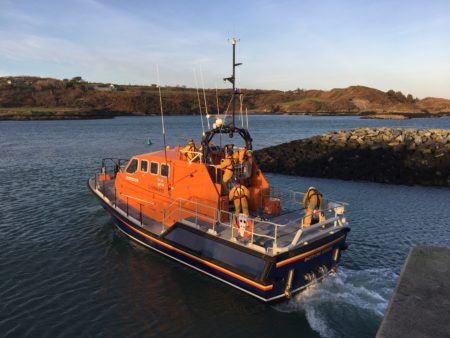 Baltimore RNLI were called out yesterday afternoon (Monday 26 February) to a fishing trawler with five people on board which had broken down 50 miles off the coast of Baltimore, West Cork.
The volunteer lifeboat crew launched their all-weather lifeboat at 2.12pm after the Irish Coast Guard requested that they go to the assistance of a 24m French registered fishing trawler that had suffered engine failure 50 miles south of Baltimore. Baltimore lifeboat arrived on scene at 4.25pm and had a tow established to the casualty vessel and were underway back to Baltimore by 4.33pm. Conditions at the time were difficult with an east south easterly force 6-7 wind and a 4m sea swell, but visibility was good.
At the time of the launch, a member of the Irish Coast Guard advised the Lifeboat Operations Manager Tom Bushe, that the crew of the casualty vessel were French and spoke no English at all. One of the volunteer Baltimore lifeboat crew, Youen Jacob, fluent in French, was able to communicate with them for the duration of the shout.
During the return to Baltimore harbour, the tow proved difficult at times due to the weight of the casualty vessel and sea conditions, and at one point, shortly before 11pm the tow parted. Within 20 minutes the tow was reconnected, and the lifeboat and fishing vessel were underway once again.
Due to weather conditions in the harbour and the size of the casualty vessel, Coxswain Kieran Cotter decided that Baltimore's inshore lifeboat should be launched to assist in bringing the trawler alongside the pier in Baltimore. The Baltimore inshore lifeboat launched at 11.45pm and met the Baltimore all-weather lifeboat at the Harbour's entrance and escorted the two vessels to Baltimore pier, arriving at 12.20am. The two Baltimore lifeboats then manoeuvred the large fishing trawler alongside the pier, where she was tied up at 1.15am. Conditions at that time were a fresh easterly force 6 wind.
There were six volunteer crew onboard the all-weather lifeboat, Coxswain Kieran Cotter, Mechanic Pat Collins and crew members Aidan Bushe, Sean McCarthy, Youen Jacob and Jim Griffiths. There were three volunteer crew onboard the inshore lifeboat, Helm Micheal Cottrell and crew Ryan O'Mahony and Paul Synott. Assisting at Baltimore lifeboat station were Marty O'Driscoll, Ronnie Carthy, Pat O'Driscoll, Cathal Cottrell, Kieran Collins, Colin Whooley and Simon Duggan.
Speaking following the callout, Kate Callanan, Baltimore RNLI Volunteer Lifeboat Press Officer said: 'It was helpful that the Irish Coast Guard notified us in advance of launching that the fishing trawler crew had no English as we were able to choose a fluent French speaker as one of our lifeboat volunteers. Thanks to Youen being able to communicate between the fishing vessel and the lifeboat both crews knew what was required throughout the rescue. If you get into difficulty at sea or on the coast, call 999 or 112 and ask for the Coast Guard.'