22 April 2018
By Elaine Murphy
elaine@TheCork.ie
When: Saturday 12 May
Where: Ballymaloe Grainstore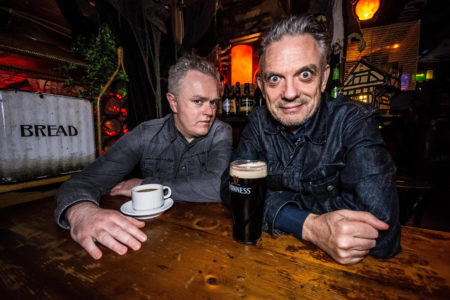 What do you say to a night with two of the most memorable characters from the much-loved Father Ted TV series? It'll be mad for sure when Joe Rooney and Patrick McDonnell bring Father Damo and Eoin McLove to life via stand-up and musical comedy. Their Stars of Father Ted show comes to Ballymaloe Grainstore on Saturday 12 May at 8pm.
The comical duo are stalwarts of the Irish comedy scene who never fail to put on a unique and hilarious night of entertainment.
You don't have to be a girl to enter their 'Lovely Girls' competition, with the winner receiving a luxury cruise in a boat of their own making, perfect for the voyage to Craggy Island. Expect improvised audience interaction, a unique take on Irish society, and mighty laughs.
'If they don't get their own TV show at the end of the run, there is something very wrong with the world.' – The Scotsman
Go on, go on, go on, tickets for Stars of Father Ted are only €22. They can be booked online at www.ballymaloegrainstore.com or by phone on 021 475 7200.
Early dinner is served in Ballymaloe House at 6pm for €50 per person. Please ring 021 465 2531 to book. For lighter fare, a selection of soup, sandwiches, tortillas, homemade Ballymaloe ice cream and more is served upstairs in the Grainstore from 7pm.