27 August 2018
By Elaine Murphy
elaine@TheCork.ie
The National Dairy Council is delighted to announce the three finalists of the Dare to Dairy with Mary competition. The three lucky finalists will bring their winning cakes to the Ploughing Championships on Wednesday 19th September and meet the Queen of Cakes herself Mary Berry.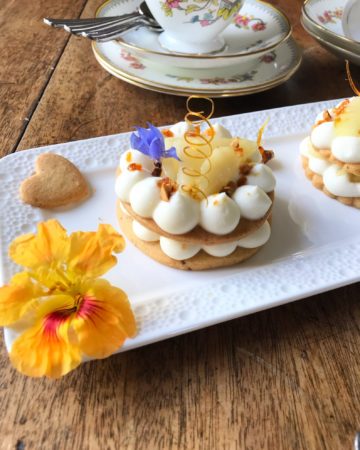 The NDC received a huge volume of high standard entries from all over the country and baking enthusiasts really impressed the judges who included Chandima Gamage Head Pastry Chef at Dromoland Castle, Food Writer and judge of Great Irish Bake Off, Lilly Higgins and Ciara Leahy, Consumer Editor of the Irish Farmers' Journal.
One of the finalists is Anne Dunne from Mallow in Co. Cork, a Home Economics teacher who lives on a dairy, beef and tillage farm in Mitchelstown. She created Hazelnut Sable Biscuits with Ricotta Mouse, Caramelised Pears and Crushed Praline for the competition which stunned the judges.
Anne said
"I am surrounded by some of the best dairy producers and I know only too well the importance of using locally produced products for freshness, quality and flavour. This concept is one I regularly bring into class and I encourage students to research and use Irish ingredients where possible. I have always loved to bake with my mum and aunts being my first educators and with an endless supply of free range eggs from my mother's hens I gained much practice at home!"
Anne will join the two other finalists who are Sonia Steedman who created a Pistachio, Rosewater, Raspberry and White Chocolate Cake and Natasha Daly who created Wild Blackberry and Sloe Gin cakes.
Prizes: Each finalist will receive a €300 voucher for Ballymaloe Cookery School and an Afternoon Tea Hamper filled with Goodies, free entry into Ploughing and will have Afternoon Tea with Mary Berry.
Mary Berry said "I'm looking forward most to meeting people and food producers at the National Ploughing Championships and tasting some good Irish food. Irish stew is one of my favourite dinners, even better with a chunk of soda bread. My mother used to make it when I was young and I still make it for my children and grandchildren." You just can't beat a good crumble or pie with homegrown berries or a stew with neck of lamb," she remarks excitedly.
Mary Berry and finalists will be at the National Dairy Council stand at the National Ploughing Championships on Wednesday 19th September.