31 March 2019
By Elaine Murphy
elaine@TheCork.ie
The Cork City Missing Persons Search and Recovery (CCMPSAR) voluntary group recently took ownership of a second boat. The 5.8m RIB will be based at the Port of Cork City Marina and is fitted with side scan sonar, which will greatly assist in river searches.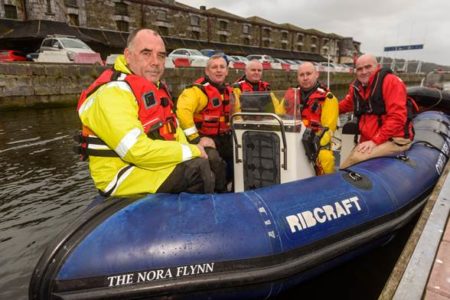 Left to Right: Voluntary crew Dinny Kiely , David O' Leary, Chris O' Donovan, Edwin O' Sullivan and Kieran Coniry (John Allen Photography)
CCMPSAR Chairman Edwin O'Sullivan said: 'We named the boat 'The Nora Flynn' after the late Nora Flynn, chosen by Nora's nephew Dinny Kiely, who is also one of our longest serving volunteers. It is a great honour and a fitting tribute to name the boat after Nora and to also have so many of her family present on the day of the launch.'
The RIB was generously funded by a number of supporters such as Port of Cork, Irish Mainport Holdings, Lehane Environmental & industrial Services Ltd, CH Marine, Whelan Stores, Inver and Jotun (Ireland) Ltd.