27 September 2019
By Bryan Smyth
bryan@TheCork.ie
Cork City will be the location for 'Cork Discovers – A World of Research'. The Cork Discovers event is part of European Researchers' Night, which will run across 27 countries on the night of Friday, September 27. The event is collaboration between University College Cork, Teagasc, Cork City Council and UCC Academy.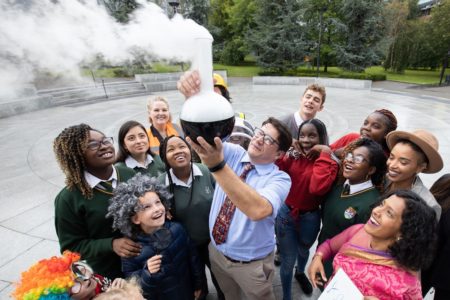 An international team of researchers will host an exciting programme of free, interactive and entertaining events to demonstrate what science does for society. With over 40 fun events taking place in venues across Cork city, there is bound to be something for everyone. The events are part of a diverse programme bringing the public into the fascinating world of research, on topics ranging from Archaeology to Zoology.
VistaMilk SFI Research Centre Deputy Director and Teagasc Researcher, Dr Laurence Shalloo, will be talking about sustainability and climate change at the speaker series 'Cork Talks', in the Boole Library Creative Zone at UCC.
In the Devere Hall, UCC, Teagasc researchers will invite the public to follow the journey of proteins through the digestive system via an interactive 3D experience; explore the insect world; investigate the world of plants using 3D arts and crafts; learn about sensors; discover how soils "breathe"; learn about the DNA make up for the perfect crisp, and much more.
In Béarra Devere Hall, Dr Orla O'Sullivan, Teagasc researcher, will ask "can you train your gut microbiome?" VistaMilk Communications Manager, Eimear Ferguson will invite the public to explore how sensor research will help to make better, more sustainable dairy products and Dr Kim Reilly, Teagasc, will exhibit a selection of images depicting scientific research from the Teagasc Vision of Research and Innovation photo competition.
Welcoming the event, Teagasc Director of Research, Professor Frank O'Mara said; "Cork Discovers is an ideal platform for Teagasc researchers to showcase their work and to demonstrate the value and impact of publicly-funded research to a wide audience. By allowing the public to step into researchers' shoes, we also hope to inspire the next generation of researchers in Ireland".
A full programme of events is available on https://corkdiscovers.org/or follow Cork Discovers on Twitter, Facebook and Instagram using #CorkDiscovers
This project has received funding from the European Union's Horizon 2020 Research and Innovation Programme under grant agreement no. 818789.