4 October 2019
By Elaine Murphy
elaiune@TheCork.ie
Fota Wildlife Park opens its first photography exhibition at Cork Airport featuring the winners and runners up from their summer photography competition
Finalists chosen to feature in the 2020 Fota Wildlife Park calendar
Today Sean McKeown, Director of Fota Wildlife Park, Kevin Cullinane, Head of Communications, Cork Airport and Darragh Kane, press photographer officially opened an exhibition at the Cork Airport terminal building featuring the finalists from Fota's summer 2019 photography competition.  Fota Wildlife Park received over 800 entries and the finalists which were adjudicated by Darragh Kane are to feature in Fota Wildlife Park's 2020 pictorial calendar as well as the exhibition in the terminal building at Cork Airport for the month of October.  The competition was run in association with Cork Airport.
Sean McKeown, Director of Fota Wildlife Park said "We are delighted to open this exhibition here today with our partners Cork Airport who have given us this very fitting space in which to display the finalist's images. The response we got was huge with 840 individual entries coming from all over Ireland and abroad. We wanted to open the competition to all ages, abilities, from photographers with a professional lens to your Smartphone user as we feel that the experience at Fota is unique and subjective and can be captured by anybody really with a camera – and we felt these images were most apt for the 2020 calendar."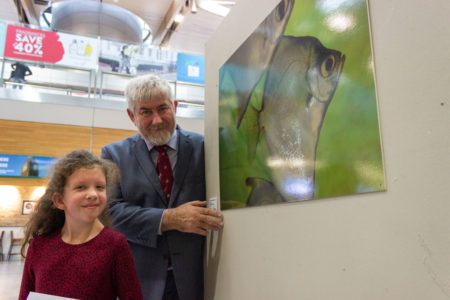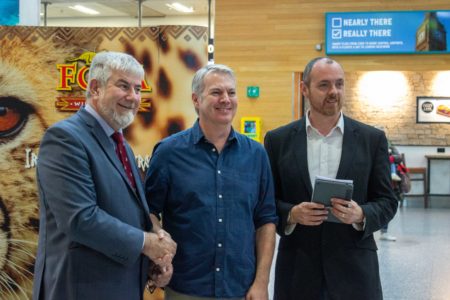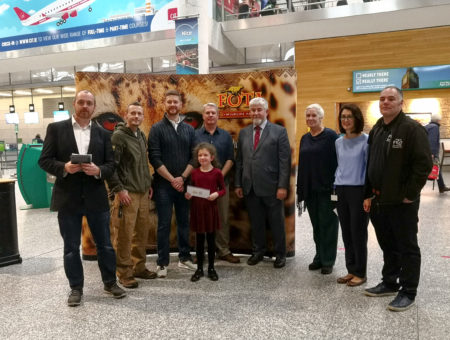 Darragh Kane, who was judging the competition said, "It was just amazing to see such as high standard of entries, obviously we were expecting and saw that from the professional category however, I was so impressed overall with the quality of images submitted – it made choosing the finalists extremely hard!"
Kevin Cullinane, Head of Communications at Cork Airport said: "Cork Airport is delighted to host the award-winning photographs in the main terminal in partnership with our friends at Fota Wildlife Park. Fota is one of the major tourism attractions for visitors across the South of Ireland annually and we are delighted to showcase this world-class amenity to the international travellers that fly in and out of Ireland's busiest regional international airport daily. We are delighted that the winning photographs are part of the latest high-profile exhibition at Ireland's fastest-growing airport this autumn which is truly impressive."
There were six categories open for entry from the 1st of June to the 31st August and the winners and runners up (who won various prizes including Conservation Annual Memberships, family day tickets and €300 individual prizes) are:
Best photograph by a camera club photographer
Winner – Henry O'Brien from Blackrock, Cork of Blarney Camera Club
Runner Up – Heather Rice of Mountrath, Co. Laois, of Mountrath and District Camera Club
• Best photograph by a professional photographer
Winner – Claudio Amazio of Cork City
Runner Up – Pawel Curylo from Cobh, Co. Cork
Best photograph by a non-club/non-professional photographer
Winner – Chris Martin of Douglas, Cork
Runner Up – Michael Allshire from Coachford, Co. Cork
Runner Up – Chris Martin
Best photograph using a smartphone/tablet
Winner – Carol Daly from Cloyne, Co. Cork
Runner Up – Joy Burniston from Glengarriff, Co. Cork
Best photograph by an Under 16
Winner – Aurora Clancy-Stokes aged 10 from Oola, Co. Limerick
Runner Up – Kinga Koscielniak aged 9 from Carrigtwohill, Co Cork
Best photograph by an International visitor
Winner – Robin Williams from Missouri, USA
Runner Up – Thomas Carter from London, UK
The photography exhibition is open to the public during the month of October at Cork Airport landside terminal building (opposite Bank of Ireland). The 2020 pictorial calendar will be available from Fota Wildlife Park mid-October.
Fota Wildlife Park, Ireland's Wildest Attraction, is Ireland's only zoological wildlife park and is set on 100 acres on the scenic Fota Island in the heart of Cork Harbour. Open daily. See www.fotawildlife.ie for more.