5 December 2019
By Mary Bermingham
mary@TheCork.ie
Wilton Shopping Centre will be celebrating 40 years of business on Friday 6th December.
The Centre have lots of celebrations lined up to mark the occasion and they will be joined by Red FM and their patrollers broadcasting live from Wilton Shopping Centre from 12noon to 4pm to get the party atmosphere going in the Centre. Red FM will be spinning the wheel & giving out loads of spots prizes. They will also have Elsa & Olaf from Frozen in the Centre plus they will be joined by a balloon modeller & face painter. Many of the stores will be offering discounts on the day.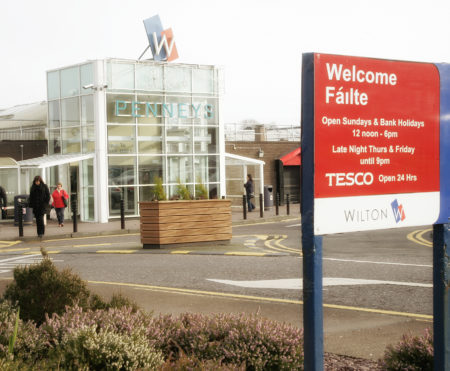 Wilton Shopping Centre or the Wilton Regional Shopping Centre, as it was known then, first opened its doors on the 6th December 1979. It was officially opened by the Lord Mayor, Councillor Jim. A Corr. It was Cork City's first indoor suburban complex and was Ireland's first regional shopping centre. The developers were Wilton Securities Ltd, the architects were Cork architectural firm, Kelly and Barry and Associates and the main contractors were John O' Donovan and Associates. The major tenants were Roches Stores occupying 40,000 sq. ft. at the northern end of the complex and Quinnsworth occupying 25,000 sq. ft at the southern end. At the time of opening the Cork Examiner stated "Wilton Centre investment determined by Cork housewives" and was "just what the housewife desires". In 1979 Roches Stores boasted of a "no smoking rule throughout the Store, except in the Coffee Bar". From Lordan's you could purchase a "stereo cassette tape deck", or a "Silver hi-rack system" for £376. Golden Discs were selling the Rolling Stones album, "Some Girls" for £3.99, Gaywear were selling "Fun clothes for Fun People" and Quinnsworth were offering a bottle of Paddy for £5.69 and a 6 pack of Guinness for £1.39.
In 2003 the Centre underwent a major extension with the addition of 10 new units and a Tesco Superstore which trades from 7.am to 1.am. In 2004 permission was granted to build a Library in Wilton Shopping Centre and Bishopstown Library opened in the Summer 2006. The anchor tenant of Penneys opened in the Centre in 2008. The Centre was acquired by retail investors and developers Clarendon Properties as part of a portfolio sale in 2015. They have adapted and significantly updated previous Wilton Centre owner Joe O'Donovan's plans to enlarge the asset and in 2018 received planning permission for a 190-bed hotel set to serve hospital visitors among other guests, a 14-screen cinema, a public plaza, a giant two-storey Penneys unit, and some other "big box" new retail space, along with an 874-space multi-level carpark among other additional parking provisions.
Today the Centre has an annual footfall of over 100,000 people per week and a net operating income (NOI) of around €5.54m. It boats 60 retails units and employs over 600 members of staff. Susanne Irwin, Manager of the Centre today said "Our slogan is that we are at The Heart of the Community, In 1979 we became essential to the community of Bishoptown, Wilton and further afield and in 2019 we are still at the heart of that community. Our customers and our staff are the most important part of Wilton Shopping Centre and on the 6th December we aim to celebrate with them. I hope that as many as possible of our regular customers can join us."
View Newspaper Supplement from 1979 advertising the new Wilton 'Regional Shopping Centre'