24 September 2020
By Mary Bermingham
mary@TheCork.ie
Cork's family-owned, Basil Food Market & Deli in Ballintemple, swung into action this March as COVID19 hit by launching an online platform. The platform is called BASIL.IE and it was launched within one week of lockdown. They have since established a strong and loyal in-store and online following and are now poised for further expansion.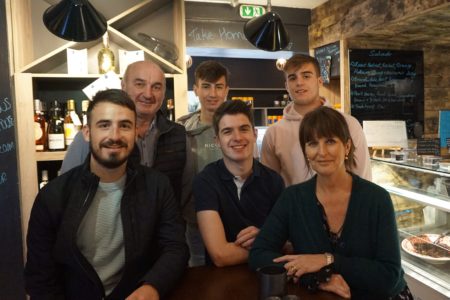 Husband and wife team Gareth and Carole Kendellen were amazed when they started getting orders for their range of foods around the world.
Carole said: "We knew that our customers were prepared to travel across the city for their favourites – be it our Cajun Chicken Ciabatta, Home-made Sausage Rolls, Millionaires Square, Mille Feuille, vibrant salads, Italian coffee, or our Take Home Meal Collection, all freshly made on-site daily. However, what took us by surprise during lockdown was when concerned family members from around the world such as Singapore, Dubai, Australia, Japan, the UK and Wales started ringing us or ordering online to deliver our home-made meals, boxes of sweet treats or hampers to their parents, aunts, uncles and family friends which we were able to deliver the same day."
"It was important for us during the Covid-lockdown to provide our customers with a take-away and delivery service. Many are living alone, some are elderly, and they have been loyal to us since we first opened in 2018.
"We got a real insight into people's lives over the last few months, especially with older people on the phone as they wanted to stay on the line and chat. You got the sense many were so lonely, anxious and scared, it was a privilege to help them in any way we could," explained Carole.
During lockdown they also experienced a surge in the demand for their gifts, care packs and hampers. They were happy to include a handwritten note with a personal message from the sender, which they have heard since, was very well received during this difficult and emotional time.
As a result, Basil Market & Deli are now expanding their gifting range to include:
New Momma & Baby gifts (Spanish, organic baby gifts & apparel (MAMA SIESTA),
Home Fragrance Collection from award winning vegan and cruelty free Company Field Day
A great new brand in Coffee Systems and Appliances.
Responding to customer requests for finer wines, they have already expanded their wine range to include Chateau Minuty, Matsu, Masi and AnticaVigna with more great labels to come soon.
Carole said: "We are planning on bottling our Caesar Salad Dressing, Chutneys and famous Relish for the retail market in the next few months as our customers are indicating a strong demand for these.
With the help of the Cork City Local Enterprise Office they are also upgrading their online platform and website which is due to be launched in a few weeks.
Carole said: "The support and guidance from LEO Cork City from the very beginning but especially in the past six months has been critical to the successful pivoting of our model. Practical help, encouragement, aid as well as access to experts has given us the confidence to explore new product lines and continue to build on our success."