16 November 2021
By Elaine Murphy
elaine@TheCork.ie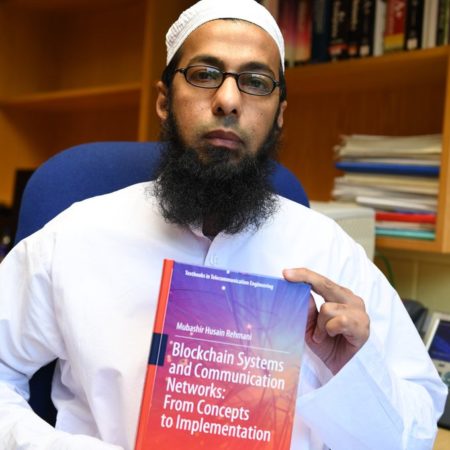 Dr Mubashir Husain Rehmani from Munster Technological University (MTU), has been selected for inclusion on the annual Highly Cited Researchers™ 2021 list from Clarivate.
Dr Mubashir's work focuses on wireless networks, blockchain, cognitive radio networks, smart grid, and software defined networks. He has written over 132 peer-reviewed articles of which 11 feature among highly cited articles by Clarivate. His performance in this context features in the top 1% in Cross-Field. More precisely, in the domain of Computer Science, Telecommunications, and Engineering. His research work has been recognized internationally and he is the recipient of several best paper awards.
The highly anticipated annual list identifies researchers who demonstrated significant influence in their chosen field or fields through the publication of multiple highly cited papers during the last decade. Their names are drawn from the publications that rank in the top 1% by citations for field and publication year in the Web of Science™ citation index.
The methodology that determines the "who's who" of influential researchers draws on the data and analysis performed by bibliometric experts and data scientists at the Institute for Scientific Information™ at Clarivate. It also uses the tallies to identify the countries and research institutions where these citation elite are based.
This year's list includes 24 Nobel laureates, including five announced this year. Also included are 77 "Citation Laureates": individuals recognized by Clarivate, through citation analysis, as 'of Nobel class' and potential Nobel Prize recipients.
Some truly extraordinary Highly Cited Researchers appear in more than one Essential Science Indicators (ESI)™ field. Of the researchers named as Highly Cited in the 21 ESI fields, 23 researchers showed exceptional broad performance, recognized for being highly cited in three or more fields. They are a truly global group – in North America, Europe, Asia and the Middle East.
David Pendlebury, Senior Citation Analyst at the Institute for Scientific Information at Clarivate said: "It is increasingly important for nations and institutions to recognize and support the exceptional researchers who are driving the expansion of the world's knowledge. This list identifies and celebrates an exceptional individual researcher at MTU who is having a significant impact on the research community as evidenced by the rate at which his work is being cited by his peers. The research Dr Rehmani has contributed is fueling the innovation, sustainability, health and security that is key for our society's future."
Michael Loftus, Vice President for External Affairs at MTU said: "The entire MTU community is extremely proud of Mubashir and all that he has achieved. It is wonderful to see that the excellence of his research work has been recognised as being in the top 1% by citations in the Web of Science. In addition to being a gifted researcher, Mubashir is extremely popular with students and colleagues alike. The contribution of colleagues such as Mubashir continues to drive the strategic development of MTU research and to provide opportunities for the advancement of human knowledge in areas of key importance currently and in the future."