8 February 2023
By Elaine Murphy
elaine@TheCork.ie
Every year in the second half of February, Eagle AC organises the annual Tommy Ryan Memorial 5-mile road race in Carrigaline, coming up Sunday, 19th February. This is a popular race with runners in the Cork area and is often used as a fitness test coming halfway through the Spring season.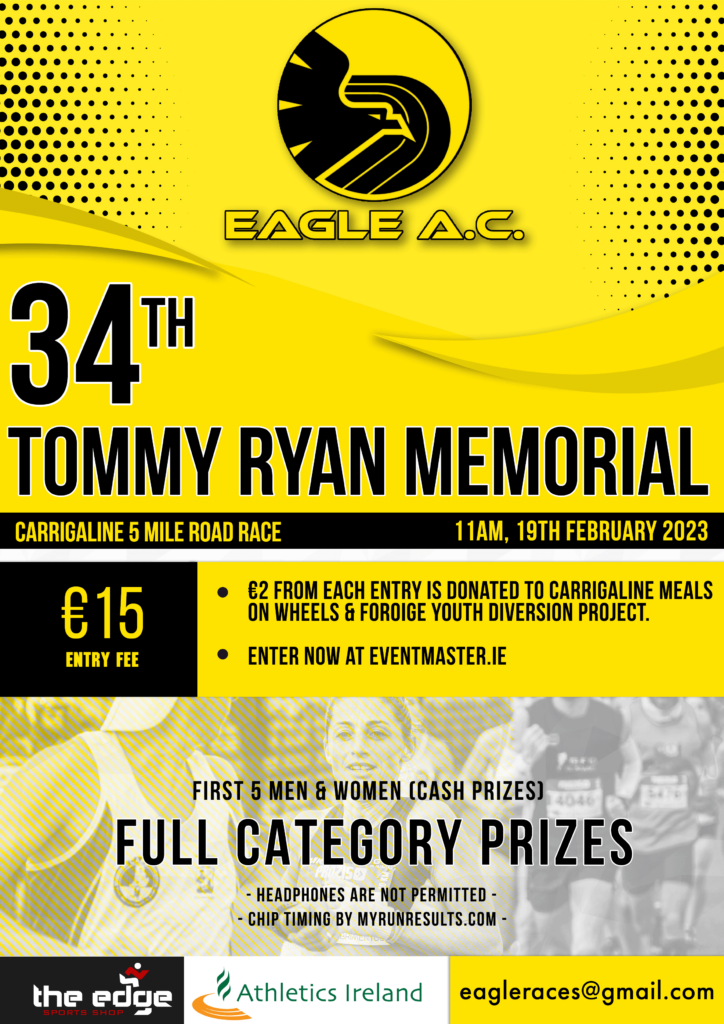 Last year's event saw overwhelming support from the running community, with over 400 pre-entries to the race. Eagle AC are delighted to announce this year's charity partners. €2 from every entry will be donated to Carrigaline Meals-on-Wheels, and Carrigaline Foróige Youth Diversion Project.
A new charity partner the club is delighted to welcome this year is the 'Foróige Youth Diversion Project' whose remit is to engage with young people who present with complex issues. They provide activities and one-to-one interventions in the hope of being the 'one good adult' who can affect meaningful change in behaviours and thoughts. Eagle AC contributions this year will help to develop a small games room in a space within the community complex to offer young people safe space over the winter months to continue nightly engagement.
Commenting on the return of the popular five miler, Race Directors Ruairi Egan and Karen Bevan: "One of the most long-standing fixtures on the Cork road racing circuit, we offer an honest course over the classic 5-mile race distance. Our experienced members well marshal the race for your safety, chip timed, with loads of prizes and a hot drink and a bite to eat afterwards. €2 from all entries goes to two wonderful local charitable organisations and we are very grateful to our sponsors for their continued support & generosity."
There are some fantastic weekly competitions on Eagle AC's instagram and facebook pages to win an entry for your training partner, along with support and training plans in the lead up to the race. The popular post-race refreshments teas, coffees and plenty of cakes and sandwiches are also returning to the community hall this year.
Registration will be online only this year. With thanks to the continued support from race sponsor The Edge Sports store there is a generous range of prizes on offer:
Male & Female 1st, 2nd, 3rd, 4th & 5th (Cash Prizes)
Male & Female Teams 1st & 2nd
1st Wheelchair Male & Female

Category Prizes:
O35 M&F – 1st, 2nd & 3rd
O40 M&F – 1st, 2nd & 3rd
O45 M&F – 1st, 2nd & 3rd
O50 M&F – 1st, 2nd & 3rd
O55 M&F – 1st, 2nd & 3rd
O60 M&F – 1st, 2nd & 3rd
O65 M&F – 1st, 2nd & 3rd
O70 M – 1st, 2nd & 3rd
A full preview of the course with photos is available at http://munsterraceroutes.blogspot.ie/2013/01/cork001.html
Review of 2022 race: https://eagleac.net/2022/02/21/the-33rd-annual-tommy-ryan-memorial-5-mile-race-20th-february-2022/
Full results of the 2022 Carrigaline 5 mile road race: https://www.myrunresults.com/events/carrigaline_5_mile_eagle_ac/4289/results
Race Sponsor https://www.theedge-sports.com/